Broccoli Salad Recipe


with Raisins and Almonds
Servings: 3 - 4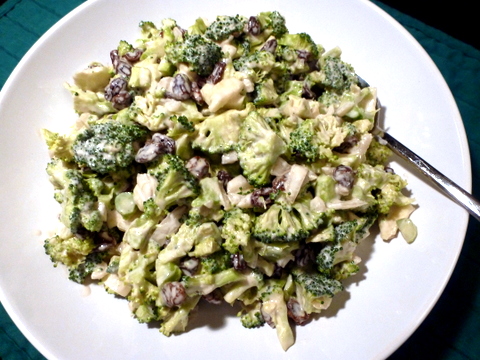 Salad ingredients:
4 cups broccoli, cut into small bite size pieces
1/3 cup sweet onion, chopped
2/3 cup raisins
1/2 cup unsalted dry toasted sliced almonds, sprinkle on salad before serving
Dressing ingredients:
1/2 block of Mori-Nu Silken Tofu (Soft)
2 tablespoons mayonnaise
2 tablespoons red wine vinegar
1 tablespoon sugar
1 tablespoon Bragg Liquid Aminos, or 1 teaspoon salt
2 tablespoons orange juice
1 tablespoons soy cream
Wash broccoli, trim outside layer on stems, and cut broccoli florets and stems into small bite size pieces.  Toss all the salad ingredients in a medium large bowl with the exception of the almonds.
Mix dressing ingredients in a blender and pour over broccoli salad - toss to coat.  Sprinkle almonds as a topping over the salad.  Cashews are also excellent as a topping to this salad.

---