Baked Potato with Veggies and Gravy
Servings: 2
Preheat oven 400 degrees

Ingredients: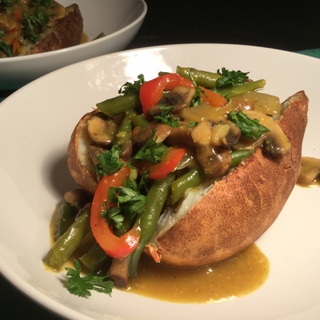 2 large baking potatoes, skins washed and dried
1 teaspoon olive oil
Using a fork, put vent holes in the the top of each raw potato, then coat potatoes with olive oil. Place potatoes in a baking pan lined with parchment paper and bake for 1 hour or until done.
While potatoes are baking prepare vegetables and gravy. 
1 cup green beans, cut in bite size pieces
1/2 cup sweet red pepper, coarsely chopped
1/4 onion, coarsely chopped
1 clove garlic, chopped
2 cups mushrooms, sliced
2 cups vegetable or chicken broth
2 teaspoons olive oil
2 teaspoons Braggs Liquid Aminos
A pinch of the following: garlic powder, ground thyme, turmeric and freshly ground pepper. 
Cook green beans in 1 cup of broth for 8 minutes. Add sweet red pepper and onions and simmer for another 3 minutes. Remove vegetables with a slotted spoon to a bowl and reserve.
Add to the pan, 1 teaspoon olive oil, chopped garlic, sliced mushrooms and 1 tablespoon water. Saute mushrooms for about 5 minutes. Remove the mushrooms with a slotted spoon and add to other reserved vegetables. 
Making the gravy: In the pan that the vegetables were cooked add 1 teaspoon olive oil. In a small bowl, gradually add 1 cup of vegetable broth to 1 tablespoon of flour, mixing well. Add this mixture to the pan and heat to medium high heat, stirring constantly until the gravy starts to thicken. Reduce the heat and continue to simmer on low heat for about 5 minutes so that the flour is thoroughly cooked. Add spices and salt as needed. 
Add the reserved vegetables to the gravy, reheat the mixture for just a minute. 
Slice the potatoes lengthwise. Using a fork, break up the solid inside of the potato. Spoon the vegetables and gravy over the potatoes and serve immediately.