Easy Vegetable Recipes: Fresh and Simple to Prepare!
Super charge your health by eating more vegetables!  Our easy vegetable recipes are made up of simple ingredients cooked just enough in order to bring out the best flavor of each vegetable.
When some vegetables are over cooked, they can turn bitter, the texture can be mushy, and the sweet fresh taste has been lost. Next to eating raw vegetables, ones that have been steamed or cooked for a short period of time are the ones that will give you the best nutrition.
Start eating healthier with some easy vegetable recipes!


Today, many people have really busy schedules and the last thing on your mind is to go home and fix a meal.
Eating out or grabbing some kind of processed foods from the grocery store seems to be the norm today.  If this is your life, your body is missing the nutrition it needs. Perhaps you are thinking it is time to get back on track. You can start here with some of our simple and easy vegetable recipes.
With a little bit of planning, you can eat healthier. One of our favorite seasonings is used in almost every savory dish we prepare.
Broccoli with Lemon Butter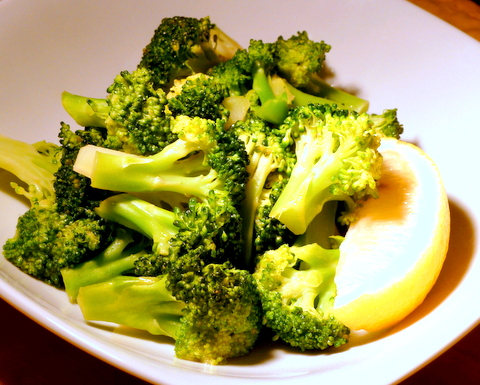 It takes only minutes to prepare this fresh broccoli recipe!
When broccoli is not overcooked, it has a great taste of its own without a lot of "doctoring up". Broccoli should be bright green in color, a little on the crunchy side (al dente), and it will be sweet. Recipe...
---
Orange-Ginger Glazed Carrots
Here is a recipe where the common carrot is all dressed up!
One of our favorite easy vegetable recipes. These glazed carrots are best made with organic carrots, or ones grown in California, which will insure that this dish is sweet and flavorful.  Recipe...
---
Oven Roasted Potatoes
Season potatoes, pop them in a hot oven, in 20 minutes they are done!
Why not try some easy oven roasted potatoes... with the skins left on and lightly seasoned. This is one of the healthiest ways to enjoy this great staple.  Forget the fried ones and opt for roasted!  Recipe...
---
Brussels Sprouts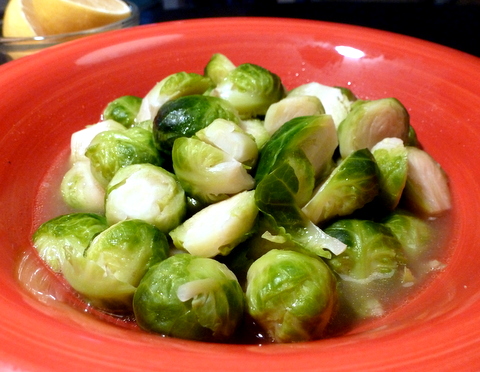 Here is how to cook Brussels Sprouts so they will be sweet and delicious!
The vegetable I always hated, before I learned how to cook them, was Brussels Sprouts.  When served, they were always soft, a dull green in color, and bitter in taste. Cooking them too long brings them past their natural sweet and delicious flavor.  recipe...
---
Healthy Sweet Potato Fries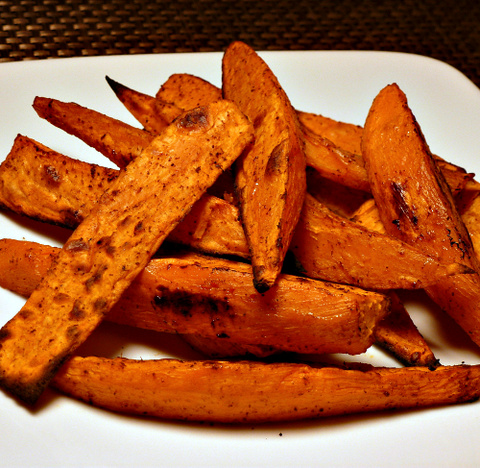 Easy vegetable recipes even include sweet potato fries!
Sweet potatoes are so tasty that even the kids will love them. By baking these potatoes in the oven on a cookie sheet lined with parchment paper, there is no messy frying pan to clean.  recipe...
---
Mashed Potatoes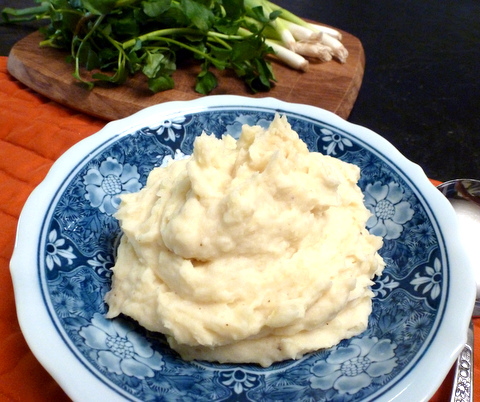 Check out the three variations of healthy mashed potato recipes!
Mashed potatoes are loved by all ages.  No need to have them laden with fat in order to be tasty. Adding flavors can make these potatoes healthy enough that you can eat them often.  recipe...
---
Cooking Time for Easy Vegetable Recipes
When two or more vegetables are combines in one dish, you may see in our easy vegetable recipes that they are being cooked separately, removed from the pan and reserved, only to be combined before serving. This method is to keep vegetables from being overcooked, and bring out the freshest and sweetest taste possible
---
Beets with Beet Greens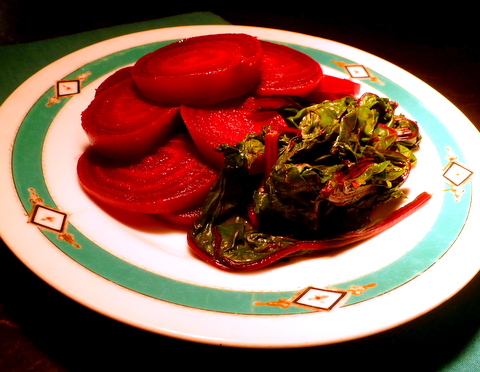 Simple fresh beets are so much better than canned ones!
Fresh beets are wonderful when served hot with the beet greens.  Then make the leftover beets pickled by just adding a little vinegar to them, and serve them cold.  Recipe...
---
Roasted Mixed Vegetables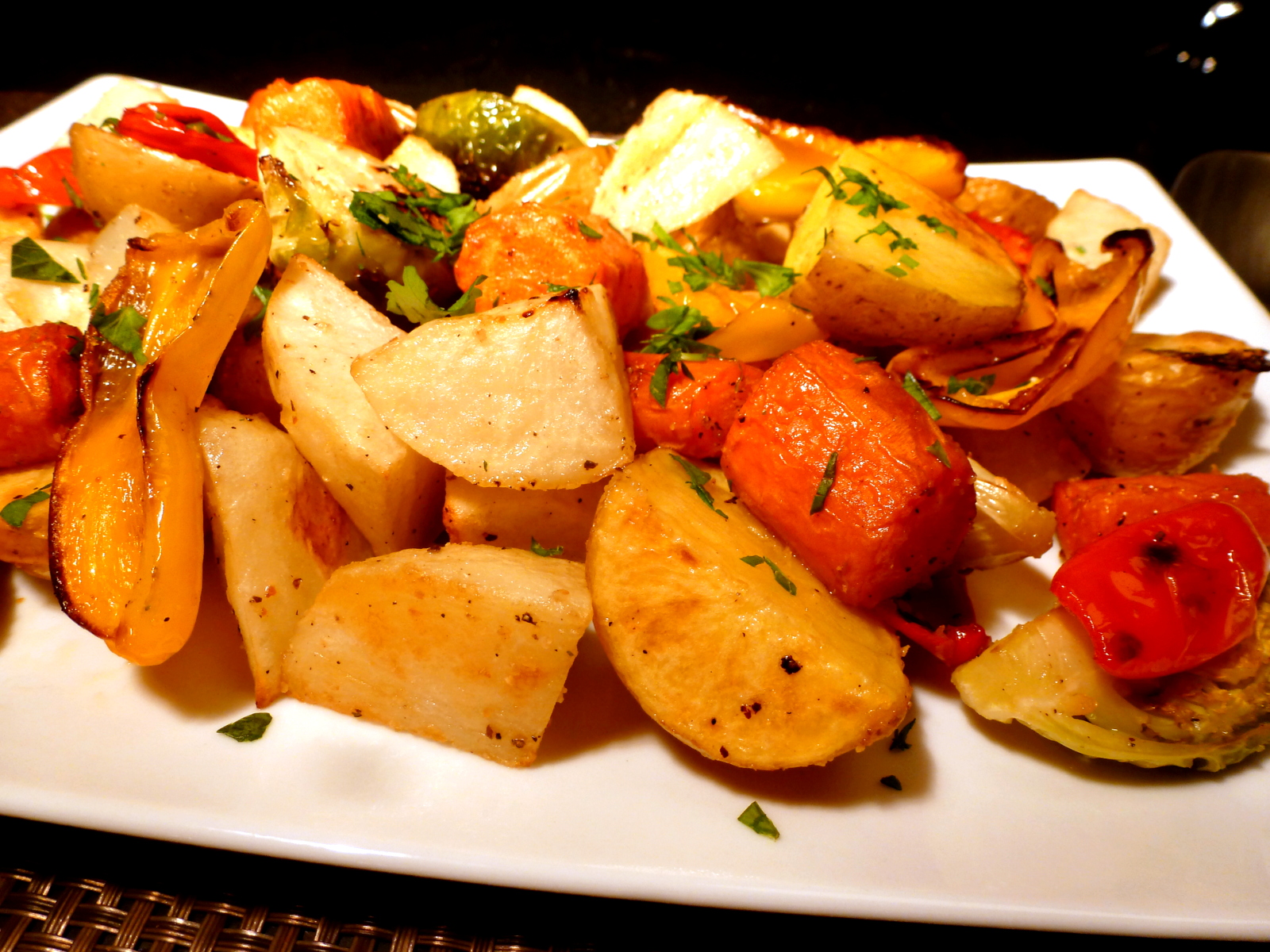 Lots of different flavors in just one dish!
Mixed vegetables seasoned with a little herbes de Provence, salt and pepper. This is a dish you can serve hot or cold, and it is easy to prepare.  Recipe...
---
Easy Succotash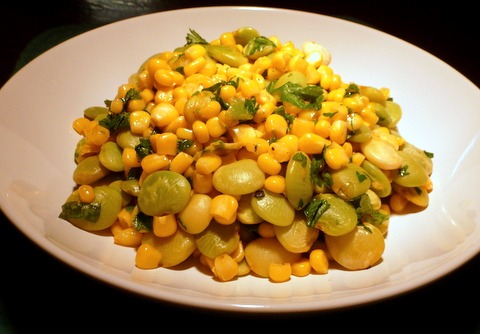 This dish always reminds me of a "taste of home"!
The corn and the lima beans are cooked separately, then combined with fresh parley and a little seasoning.  This succotash recipe is easy and pretty tasty!  Recipe...
---
Zucchini and Tomatoes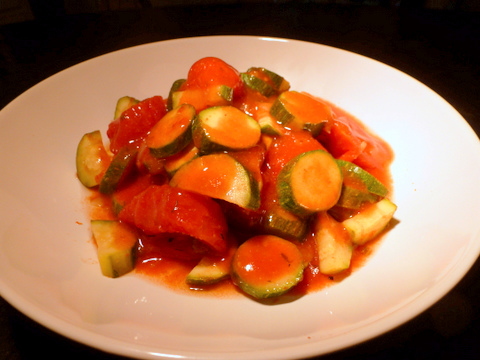 This zucchini recipe is a healthy favorite!
Tomatoes are stewed...the zucchini is cooked for only a few minutes, then combined to make a great vegetable dish.  Top with freshly grated parmesan cheese, and this dish is a real treat.  Recipe...
---
Kabocha Squash, Carrots and Onions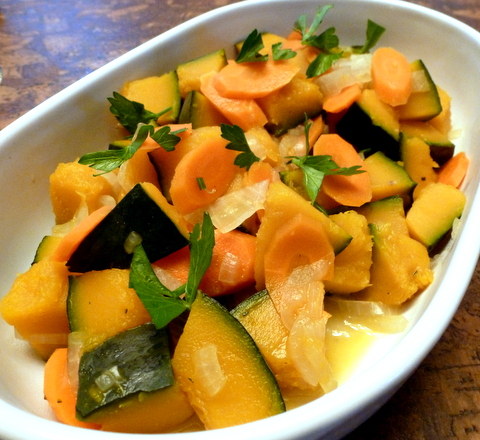 A healthy and colorful vegetable side dish!
Kabocha squash is an Asian variety of a winter squash.  The carrots and onions added make this a sweet dish. You can make this recipe to eat for one meal, and if there are left overs, the flavors just increase.  Recipe...
---
Baby Bok Choy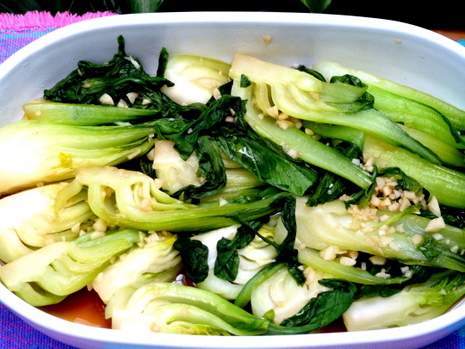 Quick and easy to saute!
This delicious vegetable compliments just about any main dish. It is especially good with pasta or rice dishes.  Recipe...
---
Stuffed Acorn Squash
An acorn squash recipe that is stuffed with pineapple and cinnamon!
This is a recipe my mother made when I was a kid. The recipe was never written down, so this is the closest I can remember as to how she made it. Hope you enjoy.  Recipe...
---
Slow Roasted Tomatoes
Tomatoes with an intense tomato flavor!
Boy are these tomatoes good fixed this way. It takes a bit of time. Prepare these little "jewels", pop them in the oven at a low temperature and forget them.  Perfect with rice, polenta or pasta.  Recipe...
---
More about healthy eating recipes...