Healthy Soup Recipes
Soup, Glorious Soup!
My healthy soup recipes are the result of the challenge to overcome illness through good nutrition. Remaking recipes without lots of animal products has been well worth the time and effort. The result is nutritious soups that are tasty and satisfying.

The Foundation of a Good Soup
The broth  is the most important part of making any soup, but especially in healthy soup recipes. If the broth is flavorless, you are not going to end up with a product that you will enjoy eating. A delicious broth can be made from aromatic vegetables and a mixture of herbs to round out the flavor. 

Sometimes I use a  small amount of animal product as a condiment to flavor the soup broth. If you are healthy and not trying to recover from chronic disease, or if you are a true vegetarian, then you can just add more herbs in enhance the flavor.

The vegetables that I use are fresh or frozen ones with the exception of some canned tomatoes and canned beans...organic ones are preferred. The addition of beans, potatoes, corn and vegetables of all colors will continue to enhance the preparation of healthy soup recipes to a full and hearty flavor.

Tips for making these healthy soup recipes...
Making the soup a day or two ahead of when you need to use it for a meal will definitely enhance the flavors even more.
Soups under refrigeration will keep easily for a week.
Having soups already prepared for a meal will help keep you away from unhealthy and expensive fast foods.
Split Pea Soup
A hearty soup for a busy day!
This pea soup recipe is a great one to make anytime of the year.  Served with a vegetable or fruit salad, or your favorite sandwich, makes this an easy meal to put on the table...even for very hungry appetites.   Recipe...
---
White Bean Soup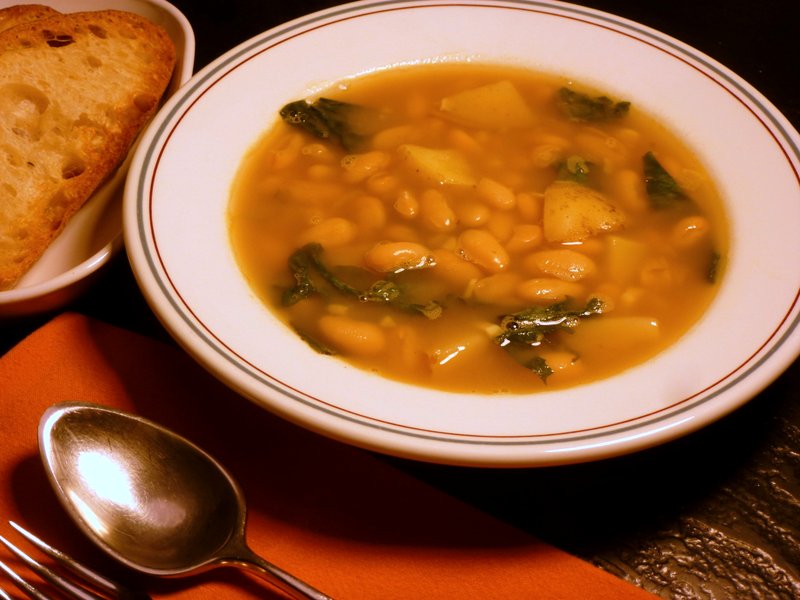 Beans, potatoes and escarole make an excellent soup!
This is my favorite of the healthy soup recipes. It is a make over from a vegetable dish my neighbor brought to our house as her contribution to the dinner that we host for our health classes. This dish was yummy!  I have made my version of her vegetable dish into a soup.  Recipe...

---
What type of pot is best to use?
Stainless steel is preferable over other metals and coatings that are on the market today.  A 5 quart pot sometimes referred to as a "dutch oven" (if you only have one size) is ideal to accommodate a variety of soup recipes. A good soup pot does not need to be expensive, but the bottom of the pot should be thick.
---
Potato Leek Soup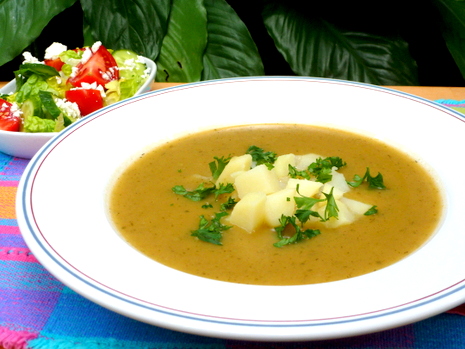 A thick and creamy soup!
Our potato leek soup recipe is perfect to serve as a first course for a special occasion or just for a soup and salad light meal. Soups like this will keep in the refrigerator for up to a week.  Recipe...
---
A Classic of the Healthy Soup Recipes...
Vegetable Soup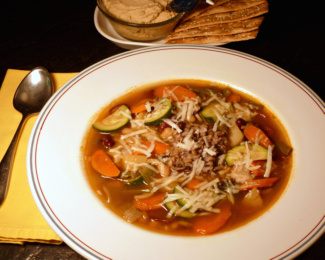 Lucky you, if you have a vegetable garden!
This recipe has a very small piece of Cherizos sausage in it.  Having recovered from illness and wanting to maintain a healthy diet, when I add a non-plant based item to a soup, it is going to be used as a condiment, or a seasoning of some sort.  One or two inches of Cherizos sausage to 10 to 14 cups of soup is not going to make us sick! You may not agree, and if you omit this ingredient, you will still have a wonderful soup.   Recipe...
---
More tips for adding flavor to healthy soup recipes...
1.   A note about Bragg Liquid Aminos: I use this in almost all my recipes such as soups, stews, salad dressings, dips, sauces, gravy, rice dishes. It is a healthier way to season your food than with table salt. Click here to learn more...excellent salt substitute.
2.  When adding sherry to a recipe, I do not use "cooking sherry" because it is loaded with salt. Use regular dry sherry (or red or white wine)...but not something that is sweet. If you decide to use sherry in your cooking, you don't have to worry about alcohol, because the cooking will remove this and just leave additional flavor. I find this important when I am trying to build taste into the dish I am preparing.
3.   Colgin Liquid Smoke is a wonderful addition to vegetarian soups or stews. A little bit goes a long way in flavoring your recipe. I refrigerate this product, and it lasts a long time.

4.  It is best to purchase low sodium products, when possible.  It is much better for you to choose the type and the amount of the sodium to be added to a recipe.
I hope these ideas will help you find soups you enjoy on a regular basis.  Here is to healthy eating!
---
More about healthy eating recipes...