The Best Juicer Makes the Best Possible Juice!

Deciding which is the best juicer for you is an important first step in getting healthy...and staying healthy.
Once you have decided to start juicing, the next step of selecting a juicer can be very frustrating. There are hundreds of juicers that claim all sorts of benefits at all different price levels.  You can spend $40 - $50 up to $2600.  It took me awhile to find the optimum juicer that would work best for me and make sense price wise.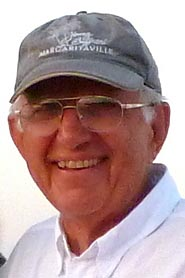 Hi, my name is Hal. You may or may not know my story, which just happens to be one of sickness to great health.  In 1999, I developed prostate cancer. After hearing what the medical world had in store for me with their procedures, I decided to opt out of what they had to offer, and just change my diet. This change in diet included a lot of juicing...and I mean a lot!  So with my experience in scanning the juicer market to make a choice on the best juicer, I would like to share with you some of the information at hand in selecting a juicer for a healthier you. 

I have used a variety of juicers over the last 20 years that have played a major role in returning to a healthy life. My juicer choices have been reduced to 3. If you are tired of seeing too many juicer sites that proclaim to know multiple best choices, here's my simple recommendation and I'll tell you why. 
To begin with, these three juicers are made in South Korea. The headquarters for Omega juicers is in Pennsylvania and Tribest headquarters is located in California. Your parts and warranty will be serviced in the USA. This is important since so many of the less expensive juicer parts are not available in the USA. Tribest and Omega are both well established companies with good reputations.
---
Best Juicer Under $100
OMEGA C21005 X-LARGE CHUTE HIGH SPEED JUICER
JUICER #1 - A great inexpensive centrifugal juicer, 1800 RPM

If you are not sure that you want to make a long-term commitment to juice, or have budget restrictions, this juicer will get you going. The OMEGA juicer has a 2-year warranty and sells for under $100. Be sure and read the difference between centrifugal (high RPM) and masticating juicers (low RPM) in this section before you decide on your juicer. The quality, higher yield and nutritional value of the juice goes up as the juicer RPM goes down. 
---
Best Masticating Juicers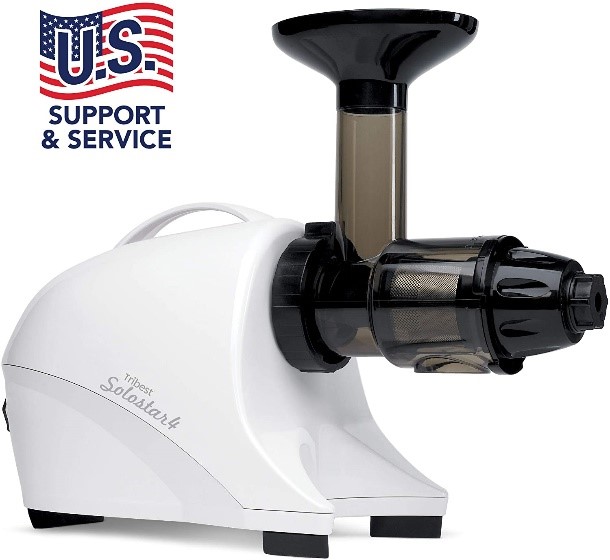 TRIBEST SOLOSTAR HORIZONTAL SINGLE AUGER
JUICER #2 - Long term use juicer: horizontal single auger, 54 RPM, Slow Masticating Juicer
This juicer is definitely the new star performer and leading the pack. This single auger masticating juicer has a 15-year warranty! You will not find many juicers that have this good an insurance policy. The new technology of this horizontal TRIBEST juicer is outstanding. It competes with the vert juicers in amount and quality of the juice which has been the main advantage of purchasing a vertical machine. The TRIBEST SOLOSTAR 4 is less expensive than the vertical juicer #3.

---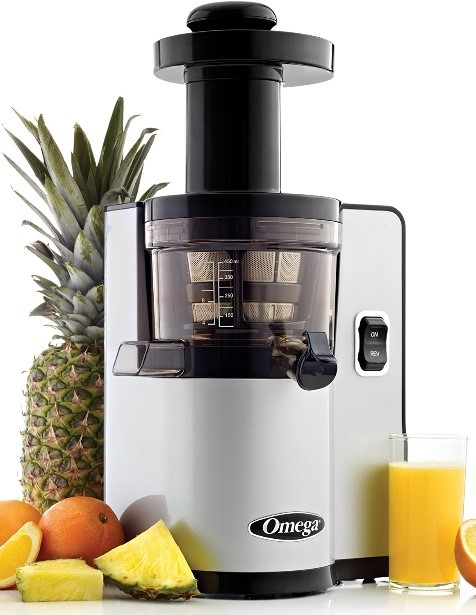 OMEGA VERTICAL SQUARE LOW-SPEED JUICER
JUICER #3 - A vertical masticating juicer, 43 RPM
This juicer gives you the highest level of extraction and healthiest possible juice. The 15-year parts and performance warranty really shows that this juicer is reliable. It has an auto cleaning system that keeps the machine clear and makes cleanup easier. It will squeeze juice from fruits, vegetables, leafy greens and even wheat grass or make nut milks.
The automatic pulp ejection also allows you to juice continuously. The no drip juice tap at the end of the juice spout can be closed during the juicing process to create a mixing function. Simply open the release tap so the juice can flow into the juice cup. The juice tap can be closed when you are finished juicing and ready to remove your juice cup so that no mess is left behind. The gentle squeezing action of the dual-edge auger keeps healthy enzymes intact, reduces heat buildup and delays the oxidation process to increase the juice's shelf life. 
---
Want to Know More Before You Choose the Best Juicer?
Centrifugal Juicer
A centrifugal juicer has a blade that spins at high speeds and a sieve that allows the juice to separate from the pulp.  The pulp is sliced into a fine mash that makes the extraction possible.
One of the limitations of this type is you will have to stop and clean the sieve when too much pulp clogs the holes and doesn't allow the juice to flow out properly.  Some models eject the pulp which is well worth paying a little more.  It is difficult, if not impossible, to juice leafy greens in most centrifugal juicers.

These juicers spin at a very high rpm and inject a lot of air into the juice that causes a loss of nutrients and enzymes.  It is best to consume juice from these juicers as soon as possible to limit the continued loss of nutrients.  Be careful to read the warranty.  Some centrifugal juicers have only a 60 day warranty. Centrifugal juicers are half the cost or less than other types of juicers.  If you are not sure that juicing is for you in the long term, then the less expensive centrifugal juicer may be the best juicer for you.

Masticating Juicer
A masticating juicer tears apart or crushes the vegetable rather than cutting as done with the centrifugal type.  The crushing action usually gets more juice out of the pulp.  Since this is basically a chewing action, the cells are broken down that result in more enzymes, trace minerals, phytonutrients, and vitamins. 

These juicers have two phases.
First phase makes the pulp.
Second phase squeezes the juice from the pulp.
The pulp in a masticating juicer is ejected and is not stored in the machine. Cleaning is usually much easier than a centrifugal juicer.

In searching for the best juicer, the quality and the quantity of the juice, in my opinion, is at the top of the list.  The masticating juicer is far superior to the centrifugal type. Tests show that the available enzymes remaining after juicing with a masticating juicer are almost twice that of a centrifugal machine. In addition to this, many of these machines also juice leafy greens effectively.
Masticating juicers operate at a much slower speed than centrifugal types. The lowest speed machine that I have found runs at 40 rpm with others that go up to 1725 rpm. Because of the low operating speed, it is very quiet. This is a real plus!

Most of these juicers come with gadgets to make pastas, nut butters, baby food and fruit sorbets.
THE LOWER OPERATING SPEED RESULTS IN HIGHER QUALITY OF JUICE, AND WARRANTIES RUN 10 TO 15 YEARS...THE BEST IN THE INDUSTRY.
My Juicing History...experience is the best teacher!

I still have my first juicer, the centrifugal type.  I thought I had bought the best juicer for the money. The main problem is cleaning since there was no pulp ejection.  I also didn't know then that the juice was not as high quality as that of a masticating type.

When I started on The Hallelujah Diet to reverse my cancer, I realized that juicing was going to play a key role in regaining my health.  So, this started my search for the best juicer I could find for the money.
I bought a Champion juicer, which was recommended by the diet protocol. I used this great masticating juicer for 8 years and made 2 to 3 quarts of juice every day.  The Champion juicers turn 1725 rpm. I still have this reliable juicer and loan it to people in our classes that need help in getting started.

As you study this vast field of information of plant based diets, one tends to fine tune methods to find the most efficient and economical approach to getting healthy...which includes a search for the best juicer.
"IF WE DID ALL THE THINGS WE ARE CAPABLE OF, WE WOULD LITERALLY ASTOUND OURSELVES."  Thomas A. Edison
The Best Juicer For You?