Healthy Lunch Recipes
and Appetizer Ideas


Healthy lunch recipes start with getting away from burgers and fries, pizzas laden with cheese, and processed foods.

We personally recommend (and eat) a big salad almost everyday for lunch, but must admit that adding some other healthy recipes do add variety to the noon day meal.

Here is a suggestion for you. Sandwiches and a cup of soup can also be very delicious and satisfying for a lunch break or at the end of a long day, especially if the soup is already made and the sandwich ingredients are ready to use without a lot of preparation.

It is important to get organized to make these dietary changes work. Getting and staying healthy is not a temporary diet change...instead, it is a lifestyle change.
Tips for making these healthy lunch recipes:
To make each day more enjoyable, try getting up a little earlier and do a little preparation so that the lunch or the evening meal is not so time consuming. 

If you make an effort to take the time to prepare for your healthy lunch recipes, you will be less apt to stop and get unhealthy fast food when your days are packed with work, endless errands and activities.

Eggless Egg Salad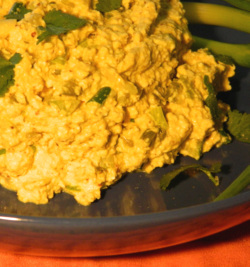 Eggless Egg Salad is an amazing substitute for the real thing.
Want to reduce cholesterol?
An average large egg has 186mg of cholesterol in the yolk.  Per serving of Eggless Egg Salad, the mayonnaise has about 10mg, and tofu has zero.
Eggless Egg Salad is a good recipe to make the day before you plan to eat it. The sandwiches will be quick to prepare and the flavor will be delicious.   Eggless Egg Salad also makes a great healthy appetizer served with chips of toast points. Recipe...

---
Eggplant Caponata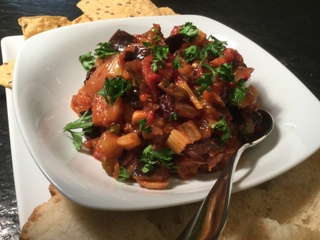 This recipe is very versatile and great for lunch or a party.
Serve for lunch in a sandwich or enjoy as an appetizer!
This healthy and versatile recipe is so delicious you will want to make it often. Make open face sandwiches to go with your salad or soup, making a complete mid-day meal, or serve as an appetizer with chips for a "happy hour" at the end of the day.   Recipe...
---
Hummus, A very versatile food!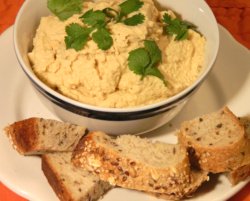 Use hummus and skip the mayo!
You get to manage all the ingredients when you make your own hummus!
Healthy lunch recipes include hummus,  and it is very easy to make. It makes a large quantity, and keeps refrigerated for up to two weeks or more.

Hummus is great to use as a sandwich filling, to spread on bread for a veggie sandwich (skip the mayo), or on a tortilla! Hummus also makes a healthy and delicious appetizer for whole grain crackers and chips, or to use as a veggie dip.  Recipe...

---
Vegetable Rice Bowl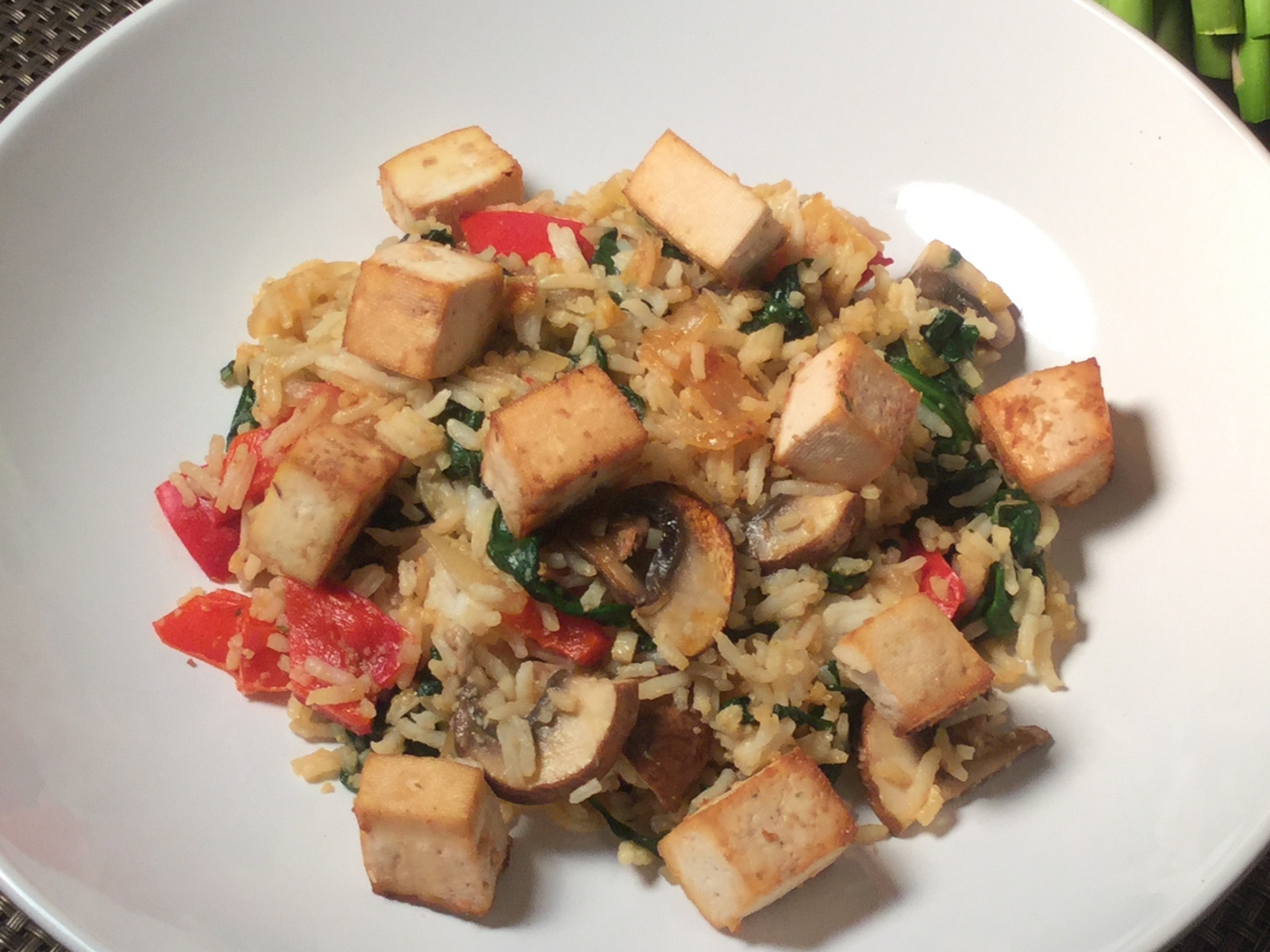 A savory hot lunch that is healthy and flavorful.
The secret is in the sauce!
This recipe is a delicious way to eat more veggies. Serve it with or without Oven Roasted Tofu. This dish is a good make ahead meal for one of those very busy days you are tempted to eat fast food!  recipe...
---
Vegetarian Vietnamese Style Sandwich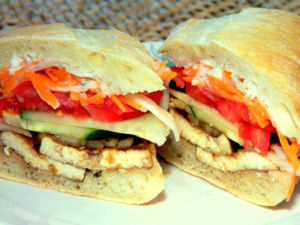 This sandwich is so tasty, you will want to eat it often.
This recipe qualifies as a "man size" lunch!
This is one of the healthy lunch recipes that will give you plenty of vegetables and great taste! It takes a little effort to make, but three of the steps can be made ahead of time. Add a cup of soup and you have an incredible meal!   Recipe...

---
Baked Potato with Veggies and Gravy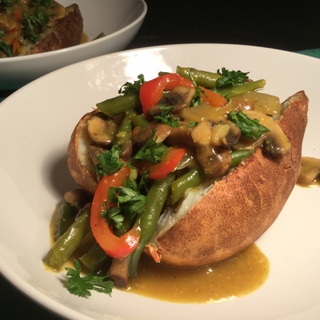 This stuffed potato is delicious and filling.
A healthy and hot lunch!
In the time that it takes to bake a potato, you can prepare a delicious, hot and filling lunch. I use whatever vegetables I have on hand. You won't need to add a thing to this satisfying meal.  recipe... 
---
More about healthy eating recipes...