Healthy Salad Recipes


Healthy salad recipes begin with dark green leafy vegetables. The salads are made up of mostly raw whole plant foods. Eating these raw whole plant foods is one of the easiest ways to improve your health or protect the good health you already have. Why...because salads make our diets rich in antioxidants and phytochemicals which protect our body from free radicals.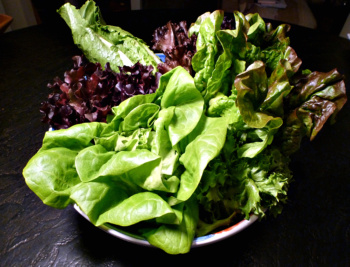 Salads make our diets rich in antioxidants and phytochemicals.
The kind of diet that contains lots of healthy raw vegetables, some fruits and some cooked vegetables is also a nutrient rich diet. Feeding our cells properly with nutrient rich foods will cause our cells to be healthy, and they in turn will strengthen our immune system.

Healthy Salad Recipes Help You Recover From Illness

When Hal was diagnosed with prostate cancer in 1999, we learned how important raw vegetables and fruits were to help the body recover from illness. We started eating a big salad everyday for lunch and began to quickly realize that the right fuel for the body was very powerful.
"Interestingly, there is one food that scientific research has shown to have a strong positive association with increased longevity in humans. So which food do you think that is? The answer is raw, leafy greens, normally referred to as salad."
Joel Fuhrman, M.D.
---
Big Everyday Salad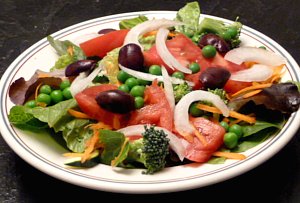 Delicious and nutritious!
Build your salad with green leafy lettuce... then select a variety of vegetables and toppings to keep this very important salad interesting and appealing to your sense of taste.  To round out your meal, choose a few multi-grain crackers, chips, or a piece of crusty bread made of whole grain to accompany your salad.  Recipe...
---
Tips for making healthy salad recipes:
Use a salad spinner to get the salad greens cleaned, dried and ready for use.

Preparation time for a 2 - 3 day supply of salad greens, plus some other raw vegetables used in a salad takes only about 15 - 20 minutes once you get your routine set.

Store the cleaned vegetables right in your salad spinner and refrigerate. 

Having clean, cold and crisp salad ingredients ready to make a salad will make preparation easy.
---
Marinated Broccoli Salad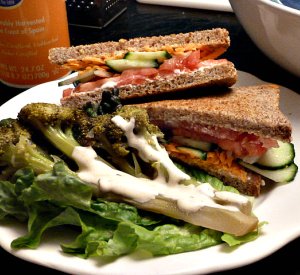 A make ahead broccoli salad recipe!
 For those of us whose time is limited in the kitchen, this salad can be made ahead of time, and it will keep for several days in the refrigerator.

Served with a simple sandwich made with toasted sprouted grain bread, a little mayo, stuffed with grated carrots, sliced sweet onion, cucumbers and tomatoes, a little salt and pepper...this combination of flavors makes a great meal!   Recipe...

---
Roasted Beet Salad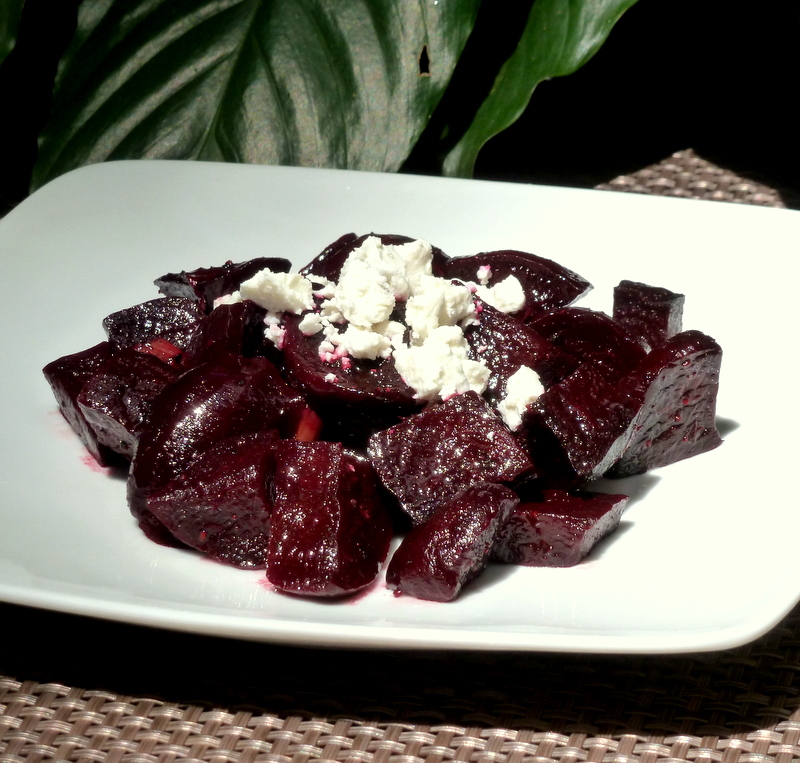 Canned beets cannot compare to the rich flavor of fresh beets!

When it comes to healthy salad recipes, this is one of our favorites.

Beets are an excellent source of phytonutrients. They also fight inflammation and help to detox your body. These beets are so delicious, you will want to eat them often.  Recipe...
---
Green Bean Salad Recipe

Even people who don't like vegetables eat green beans!

With busy schedules, make ahead recipes are so important today.  These tasty green beans will add to any lunch or dinner, and they keep for several days refrigerated.  Even kids will love them!  Recipe...
---
Green Bean and Potato Salad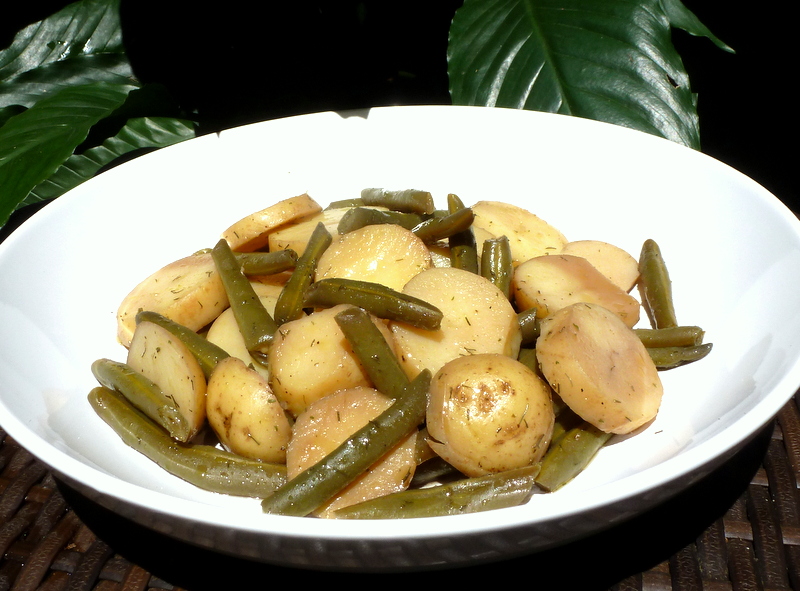 Adding potatoes to green beans makes this a hearty salad!

This combination of vegetables is an old favorite, hot or cold. Another make ahead salad for your busy days. This one will last refrigerated for several days and will even get better.  Recipe...
---
Waldorf Salad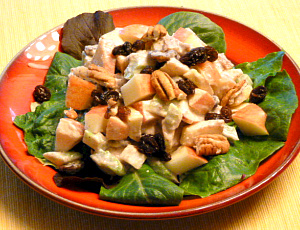 Waldorf salad with a healthy dressing!
This Waldorf salad recipe is a new twist to an old and popular salad. The dressing is made with cashews, orange juice, honey and spices. Crisp and crunchy apples, celery, raisins and pecans or walnuts are dressed in this delicious salad dressing making this a very healthy Waldorf salad.   Recipe...
---
Make Ahead Healthy Salad Recipes:
With the exception of the Big Everyday Salad, all of the salad recipes can be made a few hours or a day ahead of when you plan to serve them...including the next one "Salad To Go".
---
Salad To Go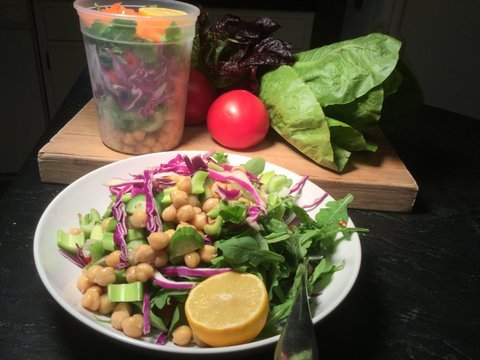 Need to take your lunch to work?
This is a recipe our daughter, Chef Debbie, created for her busy work days. She is a graduate from the Culinary Institute of America. Her life is busy, and she has to make an effort to eat healthy. This is why she created this salad for her lunch on most days.  Recipe...
---
Carrot and Raisin Salad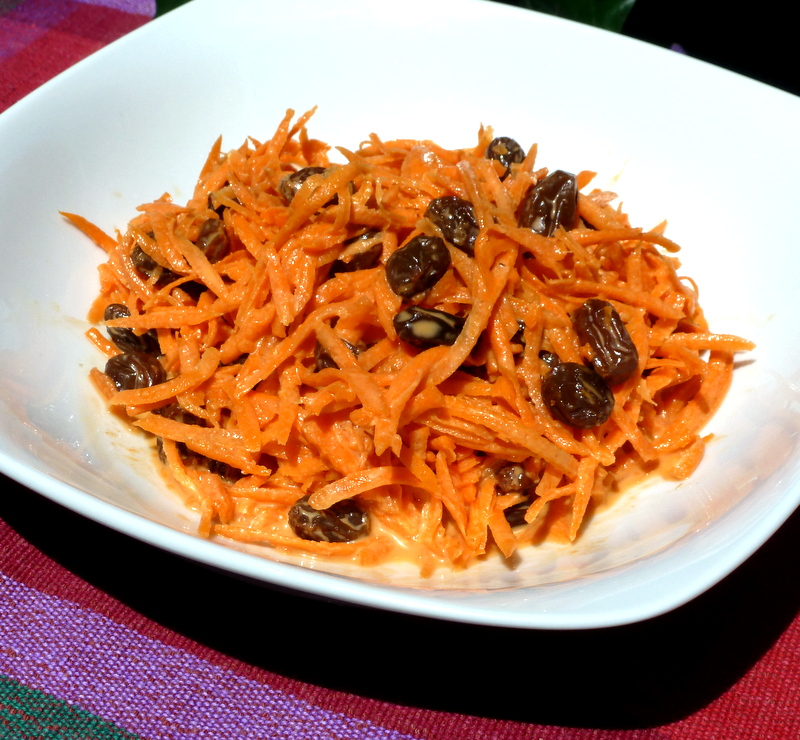 A sweet salad with a crunchy texture!
This recipe is a make over from an "old, old" spa recipe.  Animal dairy products are not used, and the small bit of mayonnaise can be vegan mayo.  The carrots are a great source of vitamin A, and the raisins provide iron.  Besides these nutritional facts, the carrot and raisin salad will be a delicious one to add to your healthy salad recipes.  Recipe...
---
Broccoli Salad Recipe 
Our broccoli salad recipe is made with raisins and topped with cashews!
The original broccoli recipe included one cup of mayonnaise in the dressing, and this ingredient has been more than cut in half. This is a much healthier salad and the taste is much the same. Maybe it will become a favorite. Recipe...
---
Marinated Cucumbers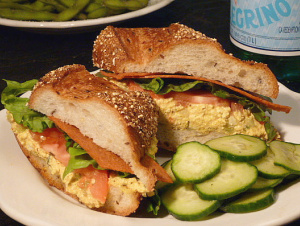 A cucumber a day keeps the doctor away!
Healthy salad recipes certainly include cucumbers. These modest little vegetables are very alkaline, which is what your body needs to stay healthy.  This cucumber salad served with a hearty eggless egg salad sandwich topped with "Smart Bacon" (veggie protein strips), tomato and lettuce on a 5 grain baguette is a meal sure to satisfy a hungry appetite. Protein strips are a processed food. Since we believe the emphasis of healthy eating should be on whole foods, we limit the use of processed foods.   Recipe...
---
More about healthy eating recipes...