The Big Everyday Salad


Add variety by changing ingredients often!
This salad is made for individual servings.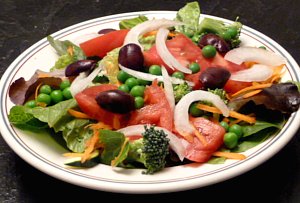 Start with a mixture of greens. Here are some to choose from:
Romaine
Boston lettuce
Green or red leaf lettuce
Bibb lettuce
Spring mix
Endive
Baby Spinach
Choose from the following raw vegetables to put on your salad greens. Add variety by changing ingredients often. The following ingredients are the foundation of healthy salad recipes...
broccoli
cauliflower
shredded carrots
sweet onions or green onions
tomatoes
cucumbers
radishes, both red and daikon
sprouts
avocado
sugar snap peas
fresh corn, kernels removed from the cob
red or green cabbage
raw mushrooms, sliced
celery
red or green peppers
parsley or cilantro
Add some other ingredients to keep the salad interesting.
roasted beets, or other roasted vegetables
cooked potatoes, sliced and cold
frozen peas, just defrosted in warm water, then thoroughly drained
green beans, fresh, cooked
beans: black, pinto, garbanzo or navy...canned ones okay (be sure to drain them)
baby artichokes, fresh or frozen, cooked
pitted olives, use sparingly (Greek olives are rich in flavor)
Feta cheese, crumbles, use sparingly
Parmesan cheese, grated, use sparingly

pumpkin seeds or sunflower seeds, hulled, use sparingly
walnuts or pecans, use sparingly
raisins, use sparingly
crumbled taco or corn chips, use sparingly
Basic salad dressing:
2 teaspoons fresh lemon or lime juice
2 teaspoons Bragg Liquid Aminos
1/2 teaspoon olive oil (optional)
1 teaspoon filtered water
dash of garlic powder
Whisk together lemon or lime juice, Braggs, olive oil, water and garlic powder until the ingredients are well mixed.  Spoon the dressing over each salad, and it is ready to eat.
---