Broccoli Salad Recipe


with Raisins and Cashews
Servings: 5 - 6
Salad ingredients:
5-6 cups broccoli, cut into small bite size pieces
1/3 cup sweet or red onion*, chopped
1 cup raisins
1 cup lightly salted cashew pieces, sprinkle on salad before serving
Dressing ingredients:
1/3 cup mayonnaise
1/2 cup coconut milk or soy yogurt
1-2 tablespoons red wine vinegar
1-2 tablespoons sugar
1 tablespoon Bragg Liquid Aminos, or 1 teaspoon salt
Wash broccoli, trim outside layer on stems, and cut broccoli florets and stems into small bite size pieces.  Toss all the salad ingredients in a medium large bowl with the exception of the cashews.
Mix dressing ingredients and pour over broccoli salad - toss to coat.  Sprinkle cashews as a topping over the salad.  Toasted sliced almonds are also excellent as a topping to this salad.
*If you use red onion for this salad, soak the chopped onion in a bowl of water for 15 minutes to reduce the strong flavor of the onion. Drain the water off and add the onion to the salad.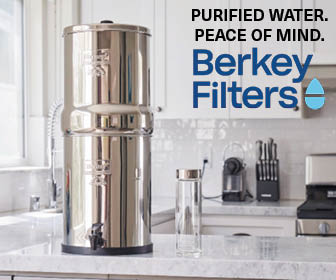 Do you ever think about improving your health with pure drinking water? We recommend the Berkey Water Filter because it removes over 200 contaminants, it is the best performing gravity fed water filter, and the water tastes great! Use the promo code HBR5 for a discount of 5% on your purchase, plus free shipping on orders over $49.