Corn Muffins
Yields 18 - 20 medium muffins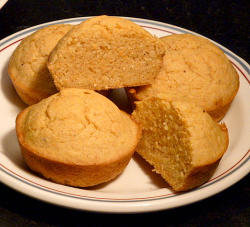 This is my favorite corn muffin recipe, and it has no eggs.  The muffins are very moist, delicious, and easy to make.
2 cups corn meal
1/2 cup unbleached white flour
1/2 cup sugar
1 teaspoon baking powder
1 teaspoon baking soda
1/2 teaspoon salt
2 cups soy milk, unsweetened
2 tablespoons cider vinegar
4 tablespoons butter or Earth Balance, melted
Preheat oven 350 degrees. Spray and coat 18 medium muffin cups with cooking oil.

Place 2 tablespoons of vinegar in a 2 cup (or larger) measuring cup. Add enough unsweetened soy milk to measure to the 2 cup line. Let the mixture set for 10 minutes...stir occasionally. 

Mix corn meal and flour in a small bowl and set aside. Melt butter and set aside. Put sugar, baking powder, baking soda and salt in a medium size bowl and add soy buttermilk when it is ready to use. Stir well.

Now add the corn meal and flour mixture, about 1/4 of the mixture at a time, stirring well after each addition. Spoon the corn muffin mixture in prepared muffin cups and fill to about 3/4 full.

Bake muffins 15 - 20 minutes. Test to see if muffin is done by inserting a knife in the middle of the muffin. If it comes out dry, the muffin is done. Corn muffins are best when served immediately while they are still warm.
These muffins freeze well in a plastic bag or container.
---