Easy Succotash
Servings - 3 to 4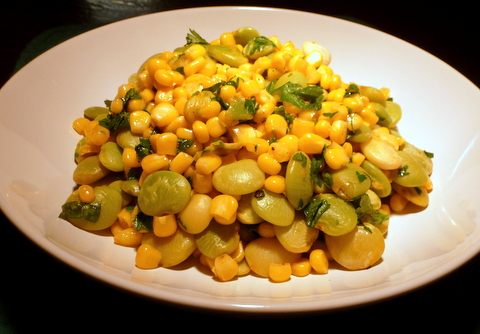 Ingredients:
2 cups frozen or fresh lima beans
2 cups frozen or fresh corn
1/2 cup vegetable broth or water
1 teaspoon Bragg Liquid Aminos or 1/2 teaspoon of salt
1 teaspoon Earth Balance or butter
2 tablespoons water
1/3 cup chopped fresh parsley
freshly ground pepper to taste
Place lima beans, vegetable broth and Bragg Liquid Aminos or salt in a medium size saucepan.  Heat to boiling, cover with a lid, reduce heat to simmer for 10 minutes or until limas are tender.  Using a slotted spoon, remove lima beans to a bowl and reserve.
Add corn, additional water and the Earth Balance or butter to the vegetable broth in the saucepan. Heat corn to boiling, cover with lid, reduce to a simmer for 3 minutes.
To finish this dish, add chopped parsley, freshly ground pepper and cooked lima beans.  Gently stir to mix, and serve.