Eggless Egg Salad
Servings - 3 to 4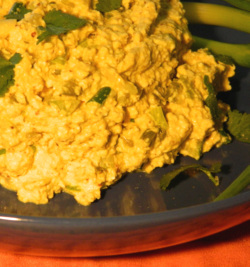 Main ingredient:
1/2 block of firm tofu or 7 - 8 ounces
Place the tofu in a colander. Lay a plate on the tofu, then place something heavy like a can of tomatoes on top of the plate.  Put the colander in the sink or in a large bowl. This process will get rid of some of the water in the tofu. Let the tofu drain for an hour. 

Now crumble the tofu in a mixing bowl and set aside.
Blend together the next 5 ingredients and add to the crumbled tofu.
2 tablespoons mayonnaise - vegan, reduced fat, soy mayo or regular
1 tablespoon prepared mustard
2 teaspoons Bragg Liquid Aminos
1/2 teaspoon turmeric
1/2 - 1 teaspoon of liquid hot sauce, add according to your taste
Additional ingredients:
2 tablespoons of chopped dill pickle slices OR 1 heaping tablespoon of sweet pickle relish
1 or 2 chopped green onions, including all of the dark green part
1/3 cup chopped celery
2 teaspoons of chopped capers
fresh or dried dill to taste
Himalayan, or Real Salt to taste
freshly ground pepper to taste
dash of garlic powder, not garlic salt
Mix well and refrigerate. When making this salad, it is best made at least a couple hours or the day before eating.
Making a sandwich!
Use 2 slices of whole grain bread for each serving, spread the Eggless Egg Salad on a slice of bread... add a slice or two of tomato, sprinkle with a little salt, then add romaine lettuce, and finish off with another slice of bread. Optional ingredients...add some sliced sweet onion and a little hot sauce and you have a winner of a sandwich!
Serve as an appetizer!
Eggless egg salad can be used as a dip for chips or toast points. Healthy and tasty, this recipe makes a great accompaniment to your happy hour drinks. Most people will not know that you are serving tofu.
---