Eggplant Caponata
Servings: 6 - 8
Ingredients: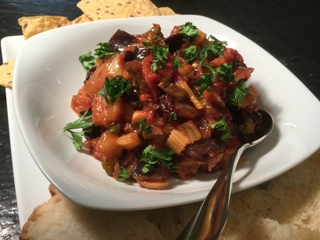 1 1/2 pound eggplant, diced
Kosher salt
1 medium onion, chopped
2 celery stalks, diced
1 clove garlic, minced
1/2 cup vegetable broth
2 tablespoons olive oil
1 14 oz. can of stewed tomatoes, coarsely mashed
1/4 cup kalamata olives, chopped
2 tablespoons capers
1/4 cup raisins, optional
pinch of dried red chili peppers
1/8 teaspoon dried oregano
2 teaspoons red wine vinegar
2 teaspoons sugar
1/8 teaspoon ground cinnamon
1 tablespoon tomato paste
1/8 teaspoon ground bay leaf
1/2 teaspoon garlic powder
A couple dashes of hot sauce, optional 
1 tablespoons chopped fresh parsley, optional garnish
Toss diced eggplant with 1 tablespoon Kosher salt in a large bowl. Cover the eggplant with a plate that fits just inside the bowl, and weigh it down with a heavy can. In one hour, drain the liquid off of the eggplant and rinse with fresh water. Dry the eggplant with paper towels. 
Heat 1/2 cup broth in a large skillet and saute onion, celery and garlic for a few minutes until soft. Remove from the pan and reserve. 
Heat 2 tablespoons of olive oil and saute the eggplant until it starts to brown. Add the reserved vegetables and canned tomatoes. Simmer these ingredients for 2 - 3 minutes to reduce the liquid. 
Add following ingredients: kalamata olives, capers, raisins, dried chili peppers, oregano, red wine vinegar, sugar, cinnamon, tomato paste, ground bay, garlic powder, and hot sauce. Heat the eggplant mixture to a simmer, stir until ingredients are mixed in, cover the pan and let the caponata simmer for 5 - 8 minutes until the eggplant is tender.
Remove the eggplant from the heat.  Taste and correct seasonings, if needed. Serve at room temperature on crackers, fresh bread or toast.
This recipe keeps in the refrigerator for a week.