Flaxseed Date Nut Muffins
Makes 24 medium size muffins.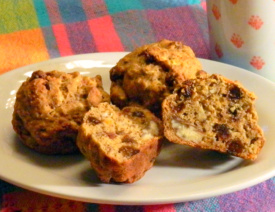 1 1/2 cups unbleached white flour
3/4 cup flaxseed meal
3/4 cup yellow corn meal
1/3 cup brown sugar
3/4 teaspoon Stevia (this is a natural product that helps cut down on the amount of sugar used)

1 teaspoon baking powder
1 teaspoon baking soda
1/2 teaspoon salt
1 teaspoon cinnamon
1/2 teaspoon nutmeg
1 large Granny Smith apple, peeled, cored and grated or shredded
1 1/2 cups carrots, peeled, grated or shredded
1 cup chopped dates (can be purchased already chopped)
1 cup walnuts, chopped
1/2 cup raisins
1 medium ripe banana, mashed
1/4 cup Canola oil (optional)
3/4 cup Soy or Almond milk
2 large egg whites, beaten or 3 teaspoons Egg Replacer mixed with water as per package direction

1 tablespoon vanilla
Preheat oven to 350 degrees. Spray and coat 24 medium muffin cups with cooking oil.

Combine first nine ingredients together in a large bowl, mix thoroughly. Stir in apple, carrots, dates, nuts and raisins to the flour mixture. In a medium size bowl, combine the banana, Almond milk, oil, beaten egg whites and vanilla, mix well. Make a well in the dry ingredients and stir in the wet ingredients until just combined. Spoon the batter into the prepared muffin cups, filling them to about 3/4 full.
Bake the muffins until the tops are golden brown, 20 - 25 minutes. These muffins freeze really well in a plastic freezer bag or container.
Preparation tip...when adding wet ingredients to the dry ingredients, do not stir more than necessary or the muffins will be tough.

---
---