Healthy Bread Pudding
with Mango Sauce
Servings: 4 - 5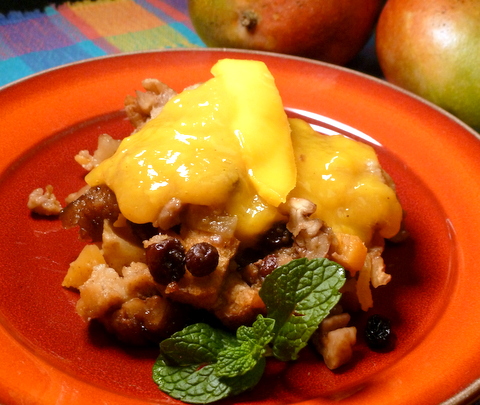 Preheat oven 350 degrees.  Lightly spray a 9 X 9 inch baking pan with Canola Oil.
Mango sauce ingredients:
1/2 cup mango or apple juice, preferably organic, no added sugar
3 cups fresh mango, peeled and sliced
3/4 teaspoon Stevia
Bring mango juice to a boil, add mango slices, simmer for about 2 minutes.  Remove mangos from heat, stir and set mixture aside to cool.  When mixture is room temperature, place in a blender or food processor, add Stevia and pulse several times. Mixture should be chunky. Serve over bread pudding.
Bread pudding ingredients:
6 slices oatmeal or whole wheat bread
1 cup chopped apple, peeled, cored and cut into 1/2 inch pieces
1 cup mango, peeled and cut into 1/2 inch pieces
1/2 cup raisins
1/2 cup dried apricots, chopped in small pieces
1/2 cup chopped walnuts or pecans
2 tablespoons Earth Balance or butter, softened (not melted)
1-1/2 cup of mango or apple juice, preferably organic, no sugar added
1/2 teaspoon cinnamon
1/2 teaspoon Stevia 
Optional - 1/4 cup Maple Syrup (for drizzling over finished bread pudding)
Spread Earth Balance or butter very lightly on bread.  Cut bread into 1/2 to 1 inch pieces. In a large bowl, mix bread, apples, mangos, raisins, dried apricots and walnuts.
In a small bowl, mix mango juice, cinnamon and Stevia.  Pour this over the bread and fruit mixture and mix all ingredients.  Distribute bread pudding mixture evenly in the prepared pan.  Do not press ingredients down.  Cover baking pan with foil and bake the bread pudding for 30 minutes.  Uncover the pan and bake uncovered for another 20 minutes, or until the top is browned. Remove from the oven.  For additional sweetness, you can drizzle maple syrup over the warm bread pudding. Spoon bread pudding onto a serving dish and top with mango sauce. Serve warm or at room temperature.