Hummus
A very versatile food!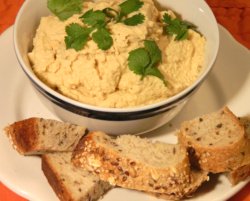 Hummus is great to use as a sandwich filling, to spread on a tortilla, bread or on whole grain crackers, or to use as a veggie dip!

Blend the following ingredients in a food processor until smooth.
It is that easy!
2 - 15 oz. cans chic peas (garbanzo beans), rinse and drain in a colander
1/4 cup tahini, which is sesame seed paste (stir well before measuring)
2 - 3 cloves of garlic 

Bragg Liquid Aminos to taste
juice of 1 to 2 lemons
water, if needed to thin the mixture
Keeps refrigerated for up to two weeks or more.
---