Mashed Potato Recipes
Servings: 2 - 3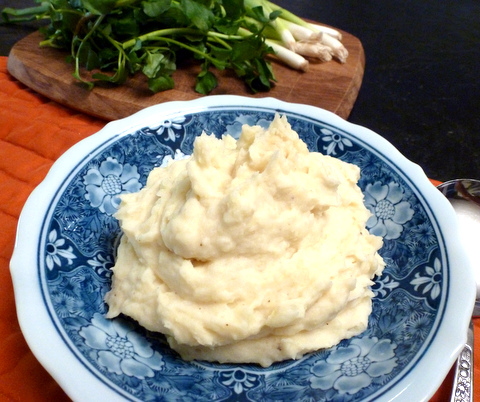 The three mashed potato recipes are a variation of this basic one.
Ingredients:
3 cups white potato, peeled and cut in 2 inch pieces
1/2 teaspoon salt
1 tablespoon butter or Earth Balance
1/3 cup unsweetened soy milk or almond milk
Freshly ground pepper
Place potatoes in a medium large pan.  Add enough water to just cover the potatoes, then add salt. Bring potatoes to a boil, cover with a lid and reduce heat to a simmer.  Cooking time is about 10 minutes.
When potatoes are done, drain off all the water, return the pan to a low heat, and add butter.  Use a potato masher or electric mixer to break down the potatoes.  Gradually add milk and keep mixing the potatoes until they are fluffy.  Add more milk if necessary.  Correct seasons with more salt and add freshly ground pepper.  Serve immediately.
Variation One - Cheese Flavored Mashed Potatoes:  When the potatoes have been cooked and drained, in addition to adding the butter, also add 1 tablespoon of nutritional yeast. Mix well into the potatoes and continue to finish the basic recipe.
Variation Two - Garlic Mashed Potatoes:  Add 2 cloves of chopped garlic to the potatoes and water before cooking begins.  Cook the potatoes with garlic until done. Drain the potatoes and finish with last steps of the basic recipe.
Variation Three - Cheese Flavored Garlic Mashed Potatoes:  Combine variation one and two to the basic recipe...this makes for a very tasty dish!