Mocha Muffins with Chocolate Chips
Yields 22 - 24 medium muffins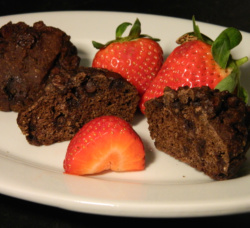 1 cup whole wheat flour
1 cup unbleached flour
1/3 cup brown sugar
1/2 teaspoon Stevia (this is a natural product that helps cut down on the amount of sugar used)

1/4 teaspoon salt
1 teaspoon baking powder
1 teaspoon baking soda
4 - 5 tablespoons cocoa powder or carob powder

1 cup of semi-sweet chocolate chips or carob chips

1 cup walnuts, coarsely chopped

1 cup cold strong decaf coffee or French Roast Teeccino

1 cup Soy or Almond milk
1 tablespoon cider vinegar

2 large egg whites, beaten or 3 teaspoons Egg Replacer mixed with water as per directions on box.
1 medium very ripe banana, mashed

1/4 cup Canola oil
Preheat oven 350 degrees. Spray and coat 24 medium muffin cups with cooking oil.
Place 1 tablespoon of cider vinegar in a 1 cup (or larger) measuring cup. Add enough unsweetened soy milk to measure to the 1 cup line. Let the mixture set for 10 minutes, stir occasionally.

Mix dry ingredients together and add semi-sweet chocolate chips and walnuts. Beat egg whites, add milk, banana, decaf coffee (or Teeccino), and oil.
Add the wet mixture to the dry mixture and mix only enough to dampen all the flour. Spoon the batter into the prepared muffin cups and fill to about 3/4 full.

Bake muffins 15 - 20 minutes. Test for doneness by inserting a knife in the middle of the muffin. If it comes out dry, the muffin is done. These muffins will freeze really well in a plastic freezer bag or container.
---