Chef Debbie's Salads To Go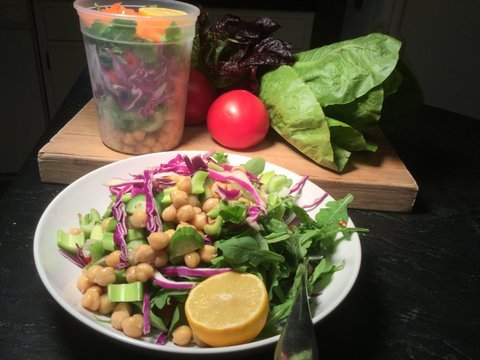 Servings: 3 large salads. To go containers need to be 3 - 4 cup capacity.
Ingredients:
1 can garbanzo beans, rinsed and drained
3 mini Euro cucumbers, cut in quarters lengthwise, then cut in chunks
3 stalks celery sliced a little chunky too
3 carrots peeled and sliced on bias, then julienned
1/2 container grape tomatoes, sliced in half
1/4 cup sliced green onions
1/2 bunch raw asparagus, cut on bias
1 cup thinly sliced red cabbage
arugula
lemon 
Braggs Liquid Aminos
Additional optional ingredients: avocado, broccoli, feta cheese and olives or whatever you like.
Layer ingredients in a container in the above order, starting with garbanzo beans. Top with a nice handful of arugula and put the 1/2 lemon on top of arugula. When ready to eat, put in a bowl, toss with 1/2 lemon, 1 teaspoon olive oil and Braggs Liquid Aminos. 
Chef Debbie makes 3 salads at a time and takes them to work for a healthy lunch!