Samson Juicer  "Advanced" Series

Multi-Purpose Juice Extractor 
Owning a Samson juicer with its efficient technology makes operation a pleasure for new users as well as for aficionados that juice several times day.
In a continuing effort to produce high quality, functional, easy-to-use and affordable juicing technology, Samson Brands has introduced the Samson Advanced Multi-Purpose Juice Extractor - a fruit and vegetable juicer.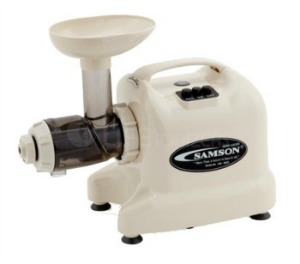 An easy to use and easy to clean juicer.
The new Samson Advanced series of juicers incorporates newer, sturdier and more efficient technology, and it is an easy to use and easy to clean juicer. It is also "more than just a juicer."  Pick the attractive color that blends into your kitchen. The Samson Advanced juicer is available in Almond, Black, Chrome-colored, and White. 
Samson "Advanced" Series Multi-Purpose Juicer Highlights
Single Gear Slow

Rotates at 80 RPM to ensure high quality nutritional juice

FDA approved GE Ultem™ is used for the augur and screens making them 8 times stronger than traditional juicer parts.
The stainless steel Juicing Screen is fully encased with GE Ultem™Juices a wide variety of vegetables, grasses and fruits

Excellent for juicing Wheatgrass and Leafy Greens

– Less foam than twin gear juicers
Simple assembly with "quick lock" style attachments
Quick and easy cleaning – Top Rack dishwasher safe (avoid drying cycle)a wide variety of vegetables, grasses and fruits 
Adjustable pressure control to maximize juice yield
Continuous juicing with containers for juice and pulp
Convenient carrying handle and easy operation using push buttons – On, Off and Reverse

Full manufacturer's 15 year warranty on motor and operational parts
The Samson Juicer Includes...
Samson Multi-Purpose Juicer Motor

Augur

Drum

Drum Cap

Juicing Screen

Mincing Cone

Cups for catching juice or pulp (2)

Sieve (1)

Cleaning Brush

Pusher / Tamper

Juicing Nozzle

Mincing Nozzle

Noodle Nozzles (2)

Pasta Nozzles (2)

Color Cook Book and Operations Manual

Operations DVD

Extra Fuse
Specifications
You also have the option to purchase the oil extractor, which is an add on. 
***** Shipping is free.  All items are 110V.  Once we receive your secure payment in PayPal, we will contact you within 48 hours to provide to tracking information and confirm payment.  We ship to U.S. only.  Florida residents pay 7% sales tax.  If you live outside the U.S. please contact us for pricing and shipping costs. Thank you.
Any order over $100.00 will require a signature upon delivery (no exceptions). 

See our Shipping Policy and Return Policy here.  Feel free to contact us with your questions.