Tofu and Mixed Vegetables
with Pasta
Servings: 2 
Ingredients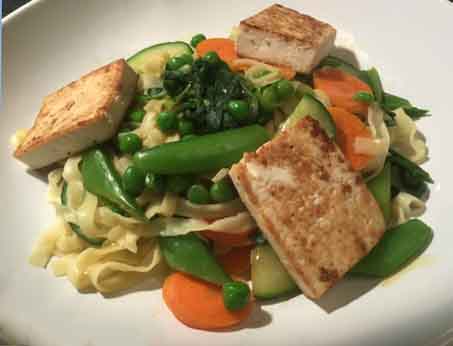 Marinated Tofu
7 oz. firm tofu
2 - 3 tablespoon of vegetable broth
1 tablespoon dry sherry - optional (not cooking sherry) 
1 teaspoon Bragg Liquid Aminos or soy sauce
1/4 teaspoon Cedar Key Spice or garlic salt
1/2 teaspoon coconut or olive oil
Sauteed Vegetables
1/3 cup sliced carrots, preferable California organic
1/2 cup sugar snap peas, outer strings removed
1 cup baby kale or spinach
1/2 cup onion, chopped
1/2 cup zucchini or English cucumber, sliced into half moons
1 cup sweet green peas, frozen or fresh
1/4 cup fresh herbs, basil, oregano or rosemary (or a combination of 2 or 3)
pinch of red chili pepper flakes
1 1/2 cups vegetable or chicken broth
additional 1/4 cup broth
1/2 teaspoon corn starch
Pasta
3 ounces of your favorite pasta or noodles
Preparing the tofu...
Prepare tofu by draining the water off the 14 oz. block of tofu. Cut the block in half and reserve and refrigerate the other half for another meal. Slice 7 oz. of tofu into 6 slices. Lay them on paper towels and cover with more paper towels. Place a saute pan on top for 1/2 hour to help release the liquid in the slices.
Prepare your marinade by combining vegetable broth or sherry, Braggs and Cedar Key Spice or garlic salt in a pie pan. Lay the 6 slices of tofu in the mixture, and turn them over to coat both sides. Let the tofu marinate for 15 - 20 minutes.
In a medium size non-stick saute pan. heat the oil, then add the tofu. Saute over medium high heat until both sides are nicely browned. Remove tofu to the pie pan and keep warm in oven until vegetables and pasta are done. 
Preparing the pasta...
Prepare your pasta or noodles according to the directions on the package. When cooked, drain and then rinse in a colander with hot water. Place the colander over an inch of water in the pan you cooked pasta in, cover with a lid,  and right before serving, warm the pasta by steaming it for a minute or two.

Cooking the vegetables...
Using the same saute pan used for tofu, heat 1 1/2 cups of broth. Add carrots and sugar snap peas, simmer 2 minutes. Remove these vegetables to a side dish with a slotted spoon and reserve.
Add kale to pan and saute until just wilted. Add zucchini, onion and green peas and saute for 2 minutes. Remove these vegetables to the side dish and reserve.
To finish sauce, mix 1/4 cup broth with cornstarch and add to pan with fresh herbs. Simmer until thickened. You may want to add a little more broth to thin the mixture. 
Now add all the vegetables back in the sauce, then add the warmed pasta and gently mix all the ingredients together. Divide between 2 large bowls, add the warm sauteed tofu on top and serve with your favorite sauce. Suggestions: Thai peanut sauce, or soy sauce.