Vegetable Stew
Servings: Two
Ingredients: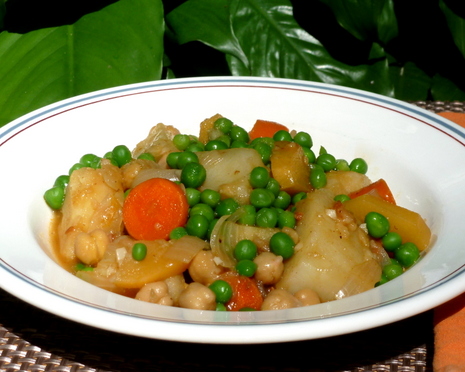 1 inch piece of Chorizo sausage, diced (optional)
2 cloves garlic, peeled and chopped finely
2 1/2 cups vegetable or chicken broth
1/2 teaspoon Better Than Bouillon or other vegetable seasoning
1/2 medium onion, coarsely chopped
1 medium turnip, peeled and cut into small cubes
2 carrots, scrubbed and sliced in 1/2 inch slices
1 large baking potato, peeled and cut into 1 inch pieces
2/3 cup frozen green peas
1/2 cup canned garbanzo beans, washed and drained
1 teaspoon Bragg Liquid Aminos or soy sauce
1/2 teaspoon Liquid Smoke
1 tablespoon sherry (not cooking sherry)
Place the peas in a small bowl and cover with boiling water. Set aside.
Bring the Chorizo sausage and garlic to a boil in the vegetable broth in a medium size sauce pan. Turn down the heat and simmer for about 5 minutes. Add the onion, turnip and carrots and continue to simmer for 8 minutes or until just tender. Remove these vegetables to a bowl with a slotted spoon. Add the potato to the broth and cook for about 6 - 8 minutes or until just tender. Remove potatoes and add to the reserved cooked vegetables.
To make the gravy, add the garbanzo beans, Bragg Liquid Aminos, Liquid Smoke and sherry. Add a little more water if needed. Bring this mixture to a boil and simmer uncovered for about 5 minutes to thicken the gravy. Add all the cooked vegetables to the gravy, gently stir the mixture.
To serve, divide the cooked vegetables into 2 large bowls, drain the peas and garnish the stew.