Vegetable Stir Fry with Garlic Sauce
Servings: 2 - 3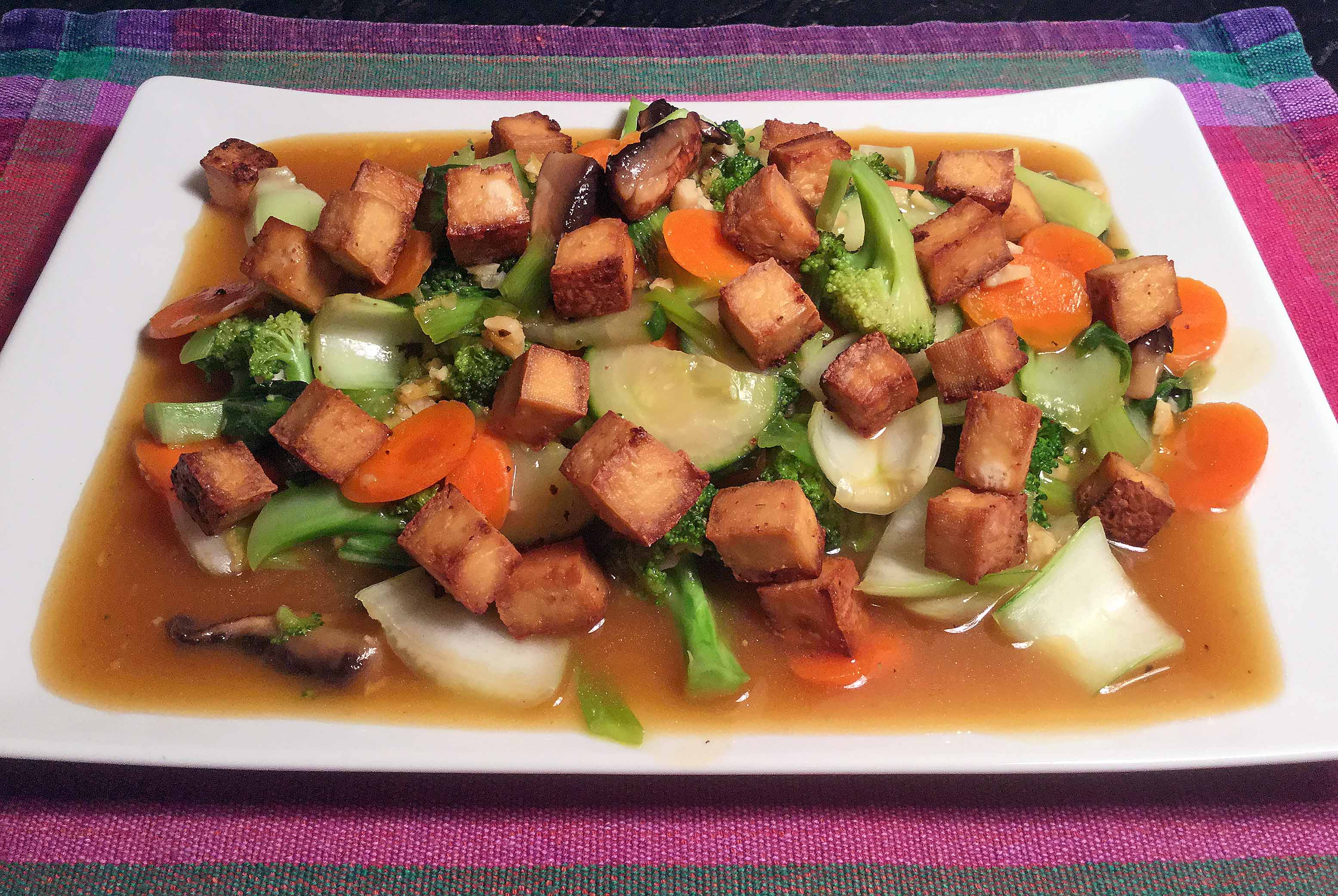 Optional addition to this vegetable stir fry is to add some marinated oven roasted tofu, which can be made in advance.  see recipe...
Serve this dish over brown or white rice. 
Stir fry ingredients...prepare vegetables first:
1 tablespoon of coconut or canola oil
2 tablespoon of water
1/3 cup carrot slices, cut in thin rounds
2 cups broccoli florets, cut in half
1 cup Bella or white mushrooms, brushed clean and sliced
2 - 2 1/2 cups baby bok choy, cut into 1 inch pieces
1/2 cup cucumber (not waxed), sliced into half moons
1/4 cup green onions, sliced diagonally
Additional (optional) canned vegetables to add to the stir fry:
6 - 8 whole baby corn, drained 
1/4 cup water chestnuts, drained
Garlic sauce ingredients:
1 cup vegetable or chicken, preferably organic
1/4 cup rice wine (Sake) or white wine
2 teaspoons sugar
1 teaspoon sesame oil
1 tablespoon soy or Tamari sauce
2 teaspoon Thai fish sauce
2 - 3 cloves garlic, minced
1/2 teaspoon ginger, grated
1/2 teaspoon fresh lemon juice
To thicken garlic sauce:  
2 teaspoons arrowroot or cornstarch
1 tablespoons water
Directions: Combine the first 9 ingredients of the garlic sauce in a sauce pan. Bring this mixture to a boil, reduce the heat and simmer for 5 minutes.  Set aside.
In a large skillet or wok, heat oil and water together over a high heat.  When pan is hot, start by adding carrots and broccoli, stirring constantly for about 2 minutes.  Add another tablespoon or two of water if pan is dry. Next add mushrooms, bok choy, cucumbers and green onions and stir constantly for another 2-3 minutes.  Vegetables should be tender but still crisp.  Stir in baby corn and water chestnuts...remove from heat immediately.
Combine arrowroot with water, mix thoroughly.  Bring the garlic sauce back to a boil, add arrowroot mixture to thicken sauce.  Stir for about a minute and remove from the heat.  Pour the sauce over the stir fry vegetables, gently mix, and serve vegetables immediately with rice.
Optional: top the vegetables with oven roasted tofu and your serve with your favorite hot sauce.