Vegetarian Vietnamese Style Sandwich
Two generous servings...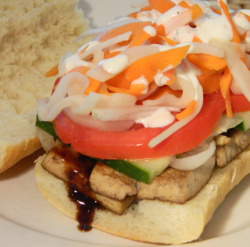 This sandwich is a very good example of the combination of flavors that Vietnamese recipes offer. It takes a little effort to make, but three of the steps can be made ahead of time. 
Prepare the pickled vegetables, ranch dressing and marinated tofu ahead of time.

For pickled vegetables:
1 medium size carrot, cut in matchsticks or coarsely shredded
1 - 3 inch piece of daikon radish, cut same size as carrots
1/3 cup cider vinegar
1 tablespoon sugar, or other sweetener
1/2 teaspoon Himalayan or Real Salt
1/2 cup warm water
Place the daikon and carrot in a bowl. Mix vinegar, sugar, salt and warm water together, stirring until sugar has dissolved. Pour over vegetables and marinate for at least 1 hour. This mixture keeps for a week in the refrigerator.
Ranch dressing (which I use sparingly...and this is my recipe which has no MSG)
2 tablespoons mayonnaise
2 tablespoons of sour cream
1 teaspoon of almond or soy milk
1 teaspoon of cider vinegar
1 teaspoon of Bragg Liquid Aminos
1/2 teaspoon of garlic powder
1/2 teaspoon of onion powder
1/4 teaspoon dried dill weed
Unused ranch dressing will last up to 10 days.
For marinated tofu:
1/2 package of firm tofu, cut crosswise into 6 or 8 slices
1 clove chopped garlic
1/2 teaspoon Five Spice seasoning
1 tablespoon of Bragg Liquid Aminos
Lay the pieces of tofu in a glass, plastic or ceramic pan. Mix garlic, Braggs and Five Spice seasoning together and spoon over tofu slices on both sides. Let the tofu marinate for 1 hour and up to 1 day.
Prepare a non stick fry pan with several sprays of canola oil. Heat to medium high heat. Place the tofu in the pan and saute for several minutes. Turn the tofu over when the bottom side of tofu begins to brown, and finish browning the other side. Remove from the pan and place on prepared baguette (or keep warm in the oven).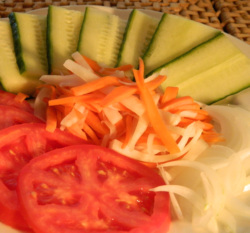 Assembling the sandwich:

Drain pickled vegetables and squeeze excess liquid out.

Split the baguette lengthwise, leaving one side attached. Hollow the insides out making a trough for each half.

Place the slices of tofu on the bottom layer.
Spread with Hoisin sauce, then layer sweet onion, cucumber slices, tomato slices, a pinch of salt, pickled vegetables and drizzle with the ranch dressing. 
If you like hot and spicy...spread 1 teaspoon of Vietnamese garlic-chile sauce on the bottom slice of bread before assembling the sandwich.
---