The McDougall Diet and Lifestyle Medicine

The McDougall Diet is not new! It has been the choice of thousands of people around the world. It is a whole food plant based diet which is very effective for restoring and maintaining one's health.

Dr. John McDougall is one of my heroes. He has practiced "lifestyle medicine" for over forty years. He has searched for the truth to offer real healing medicine to his patients. Dr. McDougall started his medical career in 1972 on the big island of Hawaii as a plantation doctor for the Hamakua Sugar Plantation. 
As a young doctor, he soon found out that the drugs he passed out did not solve the health issues. He thought maybe it was because he was a lousy doctor. Then, his observation of the diets of multiple generations from the far east that worked on the plantations changed his life forever.
First Generation Patients

His first patients on the island were always trim, hard working, were active into their 80's and 90's, did not have high blood pressure, prostate cancer, breast cancer, colon cancer or heart disease. They lived primarily on a whole food plant based diet of rice and vegetables...the diet they brought from their homeland.

The Next Generations

Their children and grand kids all consumed the Standard American Diet (SAD) and they became fat and sick...then fatter and sicker! This early observation had a profound effect on his future practice of medicine.
In 1976 he attended the University of Hawaii Medical Residency Program to become a board certified internist. Dr. McDougall felt that this was the only way he could effectively practice "lifestyle medicine" and really help people.
For more than 20 years he has run a very successful 10 day live-in residential program located in Santa Rosa, California. He has cared for and witnessed thousands of patients over the years recover from illnesses with a whole food plant based diet and exercise program. Individuals turn to Dr. McDougall for solutions when modern medicine is unable to offer any remedy to their health issues.

He is the author of many national best sellers about dynamic health, maximum weight loss, a program for a healthy heart and a program for women...to name a few.

One of his best books is "The Starch Solution".

Dr. McDougall is a true pioneer in the whole food plant based diet and lifestyle which has come to be known as the McDougall Diet.
He continues to confront the ineffectiveness of the so called "modern medicine" on all fronts. He is the "David" that takes on the "Goliath" of the medical-industrial complex.
The proof of the truth of his ideas is found in his many patients that have been able to live and enjoy abundant life on the McDougall Diet through the consumption of whole foods and his plant based healing program. The world owes much to this pioneer.

Complex Carbohydrates

The main theme of this whole food plant based diet is complex carbohydrates. On the McDougall Diet you will consume 70 - 90% carbohydrates.

There are very small amounts of carbohydrates in red meat. poultry, fish, shellfish or eggs. Most dairy products are deficient in carbohydrates...but ALL plant forms contain carbohydrates.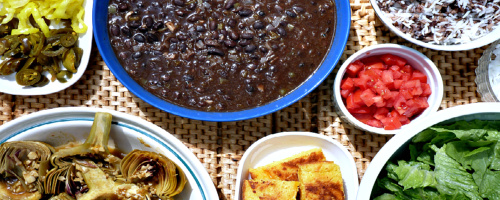 Picnic in the courtyard with lots of complex carbohydrates.
Only complex carbohydrates are permitted because of their special characteristics that provide a slow and methodical digestive process that provides the bloodstream with long lasting energy.

---
Basic Guidelines of Foods to be Eaten on The McDougall Diet

Starches to Consider
These are some of the starches that are high enough to serve as the main course in a meal:
Barley

Oats

Brown Rice

Quinoa

Buckwheat

Rye

Bulgar

Couscous

Wheat berries

Corn

Wild Rice

Millet
Unrefined Flours
Barley

Rice

Buckwheat

Rye

Corn

Soy

Garbanzo Bean

Lima Bean

Wheat

Oat

Potato
Egg Free Pastas
These pastas play a very small part in The McCougall Diet since they are made with highly refined flours.
Artichoke Pasta

Tomato Pasta

Corn Pasta

Whole Wheat Pasta

Spinach Pasta

Rice Pasta
Oriental Noodles

These noodles are also made from highly refined flours and should be minimized in The McDougall Diet.

Bean Threads
Somen
Buckwheat Soba
Udon
Rice Noodles
Roots
Sweet Potatoes

Celeriac

Tapioca

Jerusalem Artichokes

Taro

Jicama

Water Chestnuts

Parsnips

White Potatoes

Rutabaga

Yams
Winter Squashes
Butternut

Acorn

Hubbard

Banana

Pumpkin

Turban Squash

Buttercup
Legumes (Beans)
Adzuki

Red Kidney

Black

Mung

Fava

Navy

Garbanzo

Pink

Great Northern

Pinto

Lima beans

White Kidney
(Soy Beans are too high in fat to be used on a regular basis.)

---
Dr. McDougall's soups have become our healthy fast food. We always keep some on hand. Serve them with a salad, a sandwich or steamed vegetables on the soups with noodles...so delicious! Click here for this product.
---
Fruits and Vegetables

On the McDougall Diet, you may add as many green, red, yellow or orange vegetables as you wish to a meal since they do not contain many calories.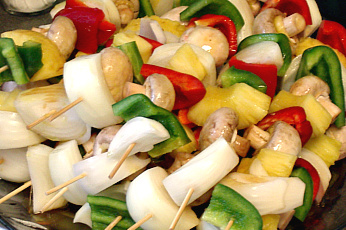 Delicious veggies ready for the grill.
Fruits should be limited to three servings a day. The sugar in fruit is fructose, which can cause triglycerides and cholesterol to rise in some people. People with these concerns should restrict fruit even more.

Fruits and vegetables are too numerous to list.
Foods Not Allowed
Cow's milk
Butter
Cheese
Cottage Cheese
Yogurt
Sour Cream
Ice Cream
Eggs
Meat, Poultry, Fish
Mayonnaise
Vegetable Oils
White Rice
White Flour
Refined and Sugar Coated Cereals
Coconut
Chocolate
Coffee, Decaffeinated Coffee, Black Teas
Colas and Un Colas
Possible Substitutes
Low Fat Soy Milk
Rice Milk
Fruit Juice
Water
Herbal Teas
Additional Allowed Foods and Substitutes
Soy and Nut Cheese after 12 days on the diet
Pure Frozen Fruit Sorbet, Frozen Fruit Bars, and after 12 days Lite Tofutti
Ener-G Egg Replacer in cooking
Tofu Mayonnaise
Whole Grain Flours
Carob Powder for Chocolate
Non-caffeinated Herb Tea, Cereal Beverages, hot water and lemon, Mineral water, Flavored or plain Seltzer Water.
Need ideas to get and stay healthy?
The McDougall Diet also includes exercise. Diet alone will take you a long way to achieving excellent health, but if you are able to exercise, the benefits will further improve your fitness and well being.


Exercise as simple as a daily walk will give you increased muscle tissue, loss of excess weight, more energy, improved digestion, better mood, higher HDL, lower triglyceride and blood sugar levels, a fall in blood pressure and a more appropriate appetite.
Track Your Program
It is good to track all of your vital signs before you begin...this gives you a benchmark to evaluate your program. On the McDougall Diet the following is recommended:

Weigh yourself
Measure your blood pressure (You may want to purchase an inexpensive pressure cuff to do it yourself.)
Getting a blood test to measure the levels of cholesterol, triglycerides, glucose, BUN, uric acid, and everything else that your doctor may think important.
The most significant findings from your blood test will be:
Cholesterol level: If your total cholesterol is above 180 mg/dl, it may be a warning of potential circulatory problems. Ideal is below 150 mg/dl.
Triglyceride level: this measures the amount of fats floating around in your blood. It should be between 50 and 200 mg/dl. Higher levels cause insulin resistance and is associated with an increased risk of heart disease.
"NO ARMY IS AS POWERFUL AS AN IDEA WHOSE TIME HAS COME."  VICTOR HUGO
Legal Disclaimer: The health and nutritional information in this website is for educational purposes only. You should contact a healthcare professional before starting any changes of diet or eliminating any medication.