Benefits of Soy Milk
The benefits of soy milk make it a very healthy substitute for cow's milk, as you can see from the chart below.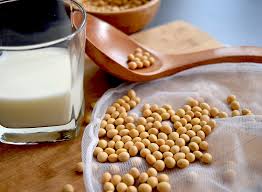 Soy milk is made by soaking soy beans, then grinding and boiling them in water. 

Soy products have been used in the orient for thousands of years and have benefited the good health of many eastern cultures. Soy milk, along with other nut milks, has become a staple in the USA in recent years, and is rapidly gaining acceptance of the health conscience public. 
The multitude of problems with the quality of domestic cow's milk has created a public demand for an alternative.
Some of the problems with cow's milk that have been observed in many studies:
High dairy intake is linked to risk of prostate cancer.

Cow's milk protein, Casein

, has been linked to Type 1 Diabetes.

Higher risk of ovarian cancer

Cow's milk is found to increase acne problems.

Allergies
Constipation and ear infections
Casein promotes cancers, increased cholesterol, and atherosclerosis in human and animal studies. 
Lactose, from cow's milk, is a major digestive problem for many around the world.
Growth hormones administered to dairy cows increase milk production and have a negative effect on human development.
Antibiotics inoculated in dairy cows are residual in milk.
Links to multiple sclerosis
Some cow feed is laced with genetically modified organisms (GMO).
No fiber in cow's milk
High fat content
---
What are the Benefits of Soy Milk?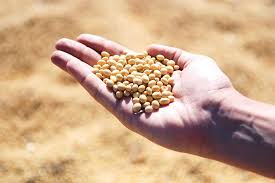 Many people have come to realize that they must find a better solution than the traditional source of milk when faced with the issues of modern dairy production.
Although there has always been a controversy of the health qualities of soy, I believe that the proof is in the thousand year diets of Orientals.
Barbara and I have enjoyed the benefits of soy milk for years and have not had any negative health issues. We have also benefited from soy by removing the problems of modern dairy milk production and specifically for me, prostate cancer promoted by animal products.
Here is a list of good things that come from soy milk:
Strengthens blood vessels and benefits blood flow
No antibiotics
No pharmaceutical added growth hormones
Acne problems diminished
No lactose - no digestion problems
No casein - only non-harmful plant protein
No added cholesterol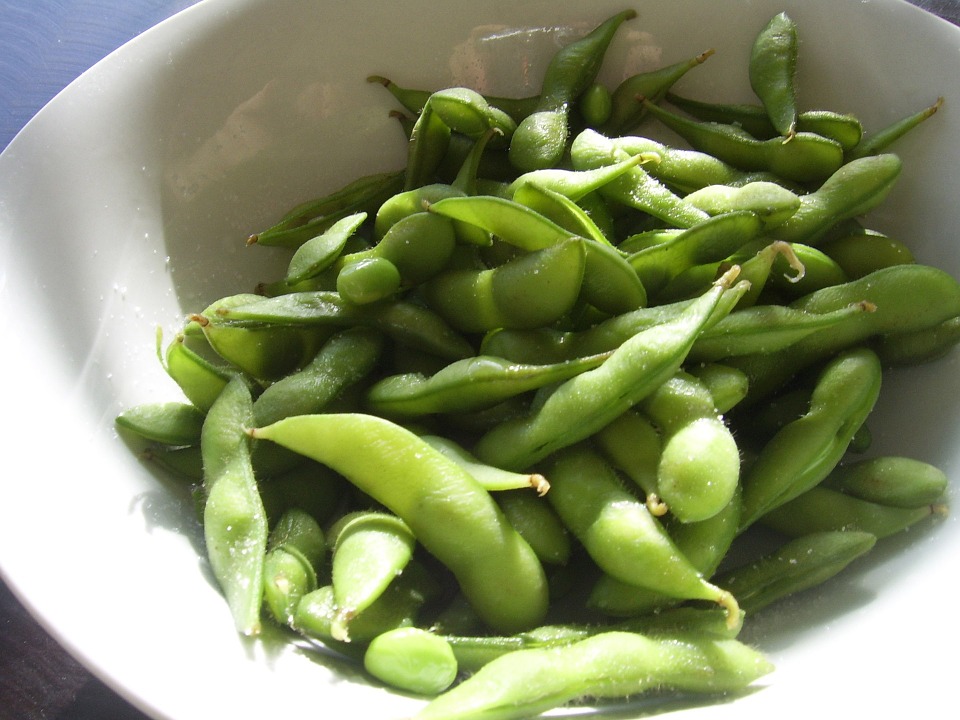 Reduced fat
Fiber
Lowers LDL - improves lipid profile
Phytonutrients that are available only from plants
Reduced sugar intake
Reduced risk of osteoporosis
Rich in Omega-3s
Isoflavones aid in post-menopausal symptoms
Helps maintain proper weight
Cautions of using soy milk...
There are all sorts of soy milk brands available today. Many producers add substances that can reduce the benefits. Artificial flavors, sugar, thickeners, preservatives, and other ingredients may be used and you must read the ingredient list to insure that you get the simplest formula.
Make sure that you only use organic labeled soy milk. GMO soy is in abundance in processed foods. Stay away from any GMO food.
If you are sensitive to estrogen, you may want to omit using soy or reducing the amount because of the phytoestrogen in the product.
Allergic reactions are rare with soy milk, however, you want to make sure that you are aware that this could happen.
Conclusion
Research has shown that the benefits of soy milk are for everyone, especially those who are living a plant-based lifestyle.
Since soy is a vegetable, tremendous benefits are also available from phytochemicals and plant based proteins. The negative effects of animal milk are avoided by using soy milk. I encourage you to try this wonderful product that has proven its health benefits for ages.
---
Nutrition Facts

Calories in Whole Milk

Serving Size 8 fluid ounces

Nutrition Facts

Calories in Soy Milk

Serving Size 8 fluid ounces
---
| | |
| --- | --- |
| Amount Per Serving | Amount Per Serving |
---
Calories

Total Fat

   Saturated Fat

   Polyunsaturated Fat


   Monounsaturated Fat


Cholesterol

Sodium

Potassium

Total Carbohydrate

    Dietary Fiber

    Sugars

Protein

146

8 g

5 g

0 g

2 g

24 mg

98 mg

349 mg

11 g

0 g

13 g

8 g

 Calories

Total Fat

   Saturated Fat

   Polyunsaturated Fat


   Monounsaturated Fat


Cholesterol

Sodium

Potassium

Total Carbohydrate

    Dietary Fiber

    Sugars

Protein

90

3 g

0 g

2 g

1 g

0 mg

100 mg

300 mg

8 g

1 g

6 g

6 g
---
More About Healthy Choices...
Healthy Weight Loss - On a successful and healthy weight loss program you do not worry about counting calories.
Benefits of Coconut Oil - are finally being revealed in our culture.
Healthy Snack Foods - The important food values to look for are the total calories from fat and total sodium.
Dried Fruit Nutrition - is abundant with antioxidants and fiber.
Natural Salt - is pure, unrefined authentic salt with all of the trace minerals in tact.
Excellent Salt Substitute - Our favorite, Bragg Liquid Aminos!
Stevia Sweetener - The uniqueness of stevia sweetener is that it is 150 times sweeter than sugar and has basically no calories.
Cruciferous Vegetables - are known to reduce the risk of getting cancer.
Vitamin B 12 - is needed for red blood cell formation, DNA processing and brain function.
Processed Foods - also known as "convenience foods", make up over 60% of our food consumption in America today. These foods are loaded with chemicals and are very unhealthy, and can cause addictive responses to get you hooked. Then, we wonder why we love food!
Return from Benefits of Soy Milk to Healthy Food Choices
---