Vitamin B 12 Is Essential to Your Diet
If you want to make sure that you get ample vitamin B 12, order a plate of clams occasionally. Look at the chart below and you will see that clams have a whopping 1,402% of daily B 12 requirements.
Meat Eaters Vs Vegetarians
If you choose the meat eaters route to get your B 12, the chronic disease problem also comes with this approach. If you are eating exclusively a plant based diet, you should supplement with a small amount of plant-based B 12. 
Adults need a very small amount, only 5 mcgs/day. Some doctors claim that the chances of deficiencies of B 12 are one in a million.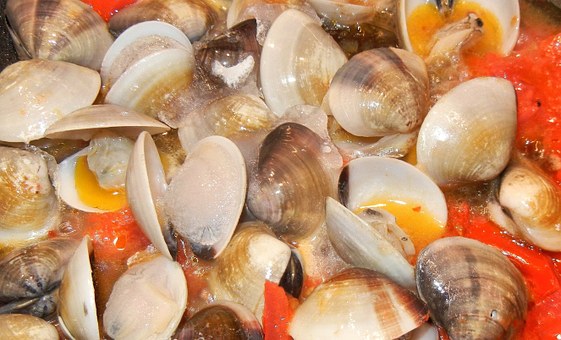 Vitamin B 12 comes mostly from the flesh of animals that consume dirt.
Why do we need vitamin B 12?
It is needed for red blood cell formation, DNA processing and brain function. Deficiencies, though rarely seen, are first seen in the blood followed by the nervous system. Nervous system problems are numbness and tingling in the feet and hands. 
Anemia is the most common hallmark of the deficiency that may show symptoms such as:
fatigue
weakness
constipation
loss of appetite
weight loss. 
Small amounts of B 12 usually solve the problems if addressed in the early stages. A blood test can measure the levels of B 12 and can help in diagnosing deficiencies.
---
Table 1: Selected Food Sources of Vitamin B12
National Institute of Health data
Liver, beef, cooked, 3 ounces

Breakfast cereals, fortified with 100% of the DV for vitamin B 12, 1 serving

Trout, rainbow, wild, cooked, 3 ounces

Salmon, sockeye, cooked, 3 ounces

Trout, rainbow, farmed, cooked, 3 ounces

Tuna fish, light, canned in water, 3 ounces

Cheeseburger, double patty and bun, 1 sandwich

Haddock, cooked, 3 ounces

Breakfast cereals, fortified with 25% of the DV for vitamin B 12, 1 serving

Beef, top sirloin, broiled, 3 ounces

Yogurt, fruit, low-fat, 8 ounces

Ham, cured, roasted, 3 ounces

Egg, whole, hard boiled, 1 large

Chicken, breast meat, roasted, 3 ounces

*microgram,  **daily values
---
As you can see From Table 1, B 12 comes mostly from the flesh of animals that consume dirt. Yes, dirt. Clams live in the sand and mud and land animals that eat grass take in the bacteria that produces B 12 from grasses, dirt, and animal feces.
The more dirt that is eaten, the more B 12 is produced by the bacteria. It is not synthesized by plants. 
Carnivores, like most humans, get their B 12 from the grazing animals that they eat. Before chemical farming, people obtained some B 12 as residue from bacteria living on vegetables.
Some other sources of B 12 other than animal products. 
The correct name for the vitamin is Cobalamin. There are a number of different derivatives of this substance made for human supplementation.
Methylcobalamin seems to be the best formula that I can find from my research. A good source for this is an oral spray.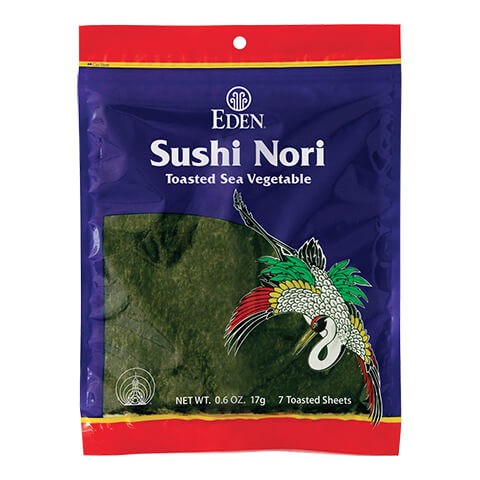 Nori is sheets of seaweed used to make sushi.
Another source is seaweed. Nori, the seaweed sheets that hold sushi together, have been found to contain ample amounts of B 12. Nori gets the vitamin from the symbiotic relationship of the bacteria that live on it.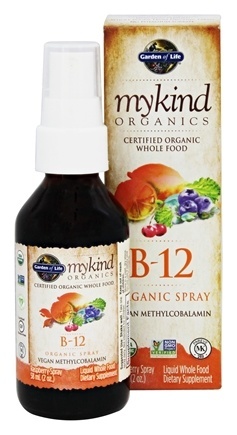 Supplemental Vitamin B 12 oral spray.
Barbara and I cut up Nori sheets for snacks and also use them in salads and garnish for main meals. Nori is very tasty just by itself even when you are not concerned with B 12.

The best source of supplemental Vitamin B 12 that I can find is an oral spray. It is a whole food that is certified USDA Organic and Non-GMO Project labeled. 
The Garden of Life spray dose is 500 mcg or about 100 times more than you need. The body will only assimilate 5-10 mcgs of this dose. This product is also vegan and is Methylcobalamin, the best type. More information.
---
Table 2: Recommended Dietary Allowances for Vitamin B 12
USDA Data
| | | | | |
| --- | --- | --- | --- | --- |
| Age | Male | Female | | |
| 0-6 months* | 0.4 mcg | 0.4 mcg | | |
| 7-12 months* | 0.5 mcg | 0.5 mcg | | |
| 1-3 years | 0.9 mcg | 0.9 mcg | | |
| 4-8 years | 1.2 mcg | 1.2 mcg | | |
| 9-13 years | 1.8 mcg | 1.8 mcg | | |
| 14+ years | 2.4 mcg | 2.4 mcg | | |
| *Adequate Intake | | | | |
Vitamin B 12 is an essential part of a healthy diet.
Most dietary experts and medical professionals know that we get enough B 12 with eating animal products. 
The Garden of Life brand and others have provided a wonderful alternative, an organic vegetable source of this necessary vitamin. Today, it is possible to supplement B 12 without having to resort to consuming animal protein and the inherent chronic disease problems that go with it.
More about healthy food choices...